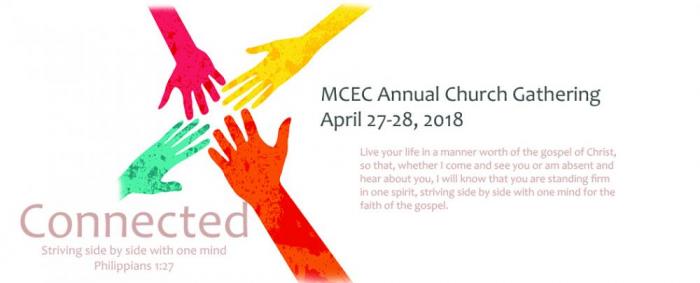 ---
ACG Home  ¦  Speakers & Highlights  ¦  Schedule  ¦  Logistics  ¦  Lunches  ¦  Registration
---
Schedule
Friday, April 27 (7:00 - 9:00 p.m.)

7:00 p.m. Opening Worship - An Evening in Myanmar!
Pastors Jehu and Yoel will share their recent experience in Myanmar on a preaching and teaching tour. Relationships continue to deepen with local congregations and communities. Pastors Jehu and Yoel distributed the newly translated Confession Faith in an Anabaptist Perspective to Chin people in Myanmar.
7:45 p.m. MCEC in Ministry
2017-2018 Financial Statements
Legacy Initiative Fund Update
Israeli/Palestinian Working Group
Anabaptist Learning Workshop
9:00 a.m. Opening Worship

Barbara Nkala will tell is about the church in Southern Africa. How is God moving in Southern African neighbourhoods? Be challenged and inspired as we connect with the church in Southern Africa through this amazing woman.
9:45 a.m. MCEC Discernment & Initiatives
Minutes of last year's meeting
Executive Council Actions
Introduction of new slate
Ministry Transitions - New Pastors or Pastors Returning to MCEC
Marilyn Rudy-Froese, incoming Church Leadership Minister
Stories of Connection:

Jacquie East, Westhills Mennonite Fellowship
Randell Neudorf, The Commons
Ruth Boehm, Faith Mennonite Church
10:30 a.m. Break
10:50 a.m.
Steve Heinrichs, Director of Indigenous-Settler Relations, MC Canada
Leadership Training in Under-Resourced Neighbourhoods
Round Table Discussions
Celebration and welcome of two new congregations to MCEC - Matu-Chin Christian Church (Kitchener, ON) and Assemblée de la Grace (Montreal, QC)
12:00 noon - Lunch
1:00 p.m. MCEC in Ministry

2018 Spending Plan/Budget
Stories of Connection:

MCEC Staff Transitions - Leaving: Henry Paetkau (Church Leadership Minister), Liz Weber (Administrative Assistant/Youth Leaders Coordinator)
MCEC Staff Transitions - Welcoming: Scott Albrecht (Accounting Assistant), Kevin Derksen (Regional Ministry Associate), Norm Dyck (Mission Engagement Minister), Ellen Kim (Administrative Assistant), Roberson Mbayamvula (Regional Ministry Associate), Marilyn Rudy-Froese (Area Church Minister), Cathrin van Sintern-Dick (Regional Ministry Associate)
Welcoming Conrad Grebel University College President - Marcus Shantz

ReLearning Community
2:30 p.m. Break
2:50 p.m. - MCEC in Ministry
Church Unity
Spending Plan/Budget Vote
Slate Vote
Informed Conversations Initiative
Mission/Witness Overview
5:00 p.m. Sending