by Jean Lehn Epp, Interim Coordinator of Youth Ministry Resources - We all practice our faith within a specific culture of shared values, lifestyles and routines that are unique to our time period or age grouping. This culture that we find ourselves in influences how we understand God and how we live out our faith in very real ways. As we look to supporting and connecting with youth we need to understand the culture they navigate everyday. We do this not to control the lives of our youth or to be like them but to foster understanding, compassion and appropriate responses of pastoral care. Our youth struggle with questions of what is real, what is true and what the future holds. We can find ourselves in a better position to interpret and be a prophetic voice for God if we let go of our assumptions and treat youth culture as something we need to know more about.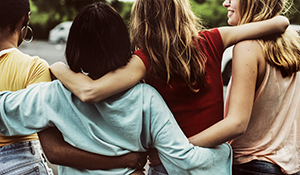 Exploring youth culture is like finding ourselves living in a new context. The invitation for us is to understand and discern needs, then move to make changes or adapt our church culture to support the needs of our youth. Sometimes we need to enter the difficult world of youth before we can really bring God into the picture. If you believe that your youth aren't dealing with issues of addictions, mental health or having thoughts of suicide, their friends or peers are. Bringing a prophetic voice to youth needs to be sensitive to avoid shaming and guilt trips. Entering the story of our youth is sacred ground and calls for compassion, understanding and respect.
To move toward understanding and responding to youth culture:
Take the time to listen to each youth and understand that they have their own story of what it is to be a young person in this day and age.
Practice letting go of attitudes of judging youth for their choices and practice unconditional compassion for the person apart from the behaviour.
Find out what your youth value and explore building ministry from that
Resources:
Reginald Bibby has researched youth culture and trends for decades and shares his insights on these transitions and their impact on faith from a Canadian perspective. Among other books is a more concise summary co-written with James Penner, 10 Things We All Need to Know About Today's Teens: That Is, If We Care About Them. This shorter version highlights what teens value, their preferences, opinions and views of God and faith.
David F. White challenges churches to discover practices of discernment in their own lives and foster this in their ministry with youth. White encourages us to recover the practices of listening, understanding, dreaming and acting. When we equip youth with the tools to think for themselves, examine how the gospel story speaks to their lives and nurture them to practice discernment they can begin to see God at work in the world around them.
The book It's Complicated: The Social Lives of Networked Teens by Danah Boyd, engages the complexities of youth culture, social media and technology. She looks at our assumptions of youth and their use of social media and encourages us to grow informed, thoughtful and engaged young people when they interact online.
Wonder how your church culture is growing or inhibiting your ministry with youth? Consider Carey Nieuwhof's 5 disruptive church trends that will rule 2019. How can a young person discover your church, understand what is unique to your church or find out what you do in ministry with youth? Nieuwhof suggests there are 5 things we should paying attention to as we begin a new year as the gathered body of Christ, the church.
---
Main Image: