Focus: Erb Street Mennonite Church and Waterloo-Kitchener United Mennonite Church, Waterloo, Ontario
Profile
Erb Street Mennonite Church and Waterloo-Kitchener United Mennonite Church are both in the core of uptown Waterloo. In a spirit of mutual benefit, both churches are intentionally bringing their youth and junior youth together with the vision to build a unified group.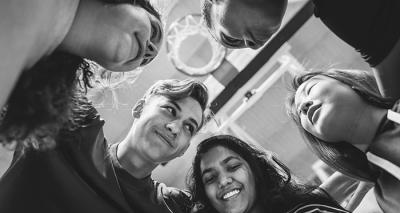 Glenda Ribey Rozomiak is Christian Education Coordinator at Erb Street Mennonite Church and Youth Coordinator at W-K United Mennonite Church. In her roles at both churches she has begun to build relationships with youth in each congregation as well as bring them together for events and occasional Sunday School classes. This intentional combined ministry is building community, growing a sense of belonging as well as nurturing faith as they look to the future.
WKUMC youth and junior youth have Sunday School at Erb Street MC weekly and once a month Erb Street youth and junior youth join WKUMC youth and junior youth at WKUMC for Sunday School, lunch with gym time or games.
Highlights of the Christmas season included cookie baking, caroling, and leading a worship service during the Christmas season.
Last February the youth and junior youth enjoyed the service project of baking cinnamon buns to raise funds for Silver Lake Mennonite Camp. They are hoping to make it an annual event.
Parents are involved by taking turns hosting the youth once a month.
The youth build relationships with others in their church by hosting a board game café and a family day lunch with games.
Glenda is open to doing a church exchange with another youth group or working together to plan events or service with other groups.  
Prayer
Hold in prayer both Erb Street Mennonite Church and W-K United Mennonite Church as they look to the future needs of their youth and look to widen the involvement of adults in their ministry with youth.  It is Glenda's desire that this growing mutual ministry would be valued and become a safe place for youth to explore their faith in God.
---