Focus: Faith Mennonite Church, Leamington, ON
Profile: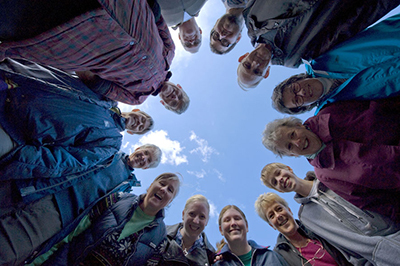 Faith Mennonite Church in Leamington, Ontario began in 1961 with a vision to have English language worship. Ruth Boehm, Minister, and Sarah Garnet, Connections and Education Coordinator, share time with the youth and junior youth at the church. They continually focus on what they can do in ministry with youth since it doesn't work to offer the traditional youth group model. They are intentional about integrating youth into the life of the congregation and into the community in which they find themselves.
A Tween book club meets monthly.
Senior youth are matched with an adult mentor from within the congregation.
They develop leadership skills with the youth through volunteering in a three-church sponsored Daily Vacation Bible School program and Spark, their afterschool program for grade school children held at the church.
Senior youth also teach children's Sunday School and once a month they have a Bible study on Sunday afternoon to prepare the youth to share the Biblical story.
This summer they are excited about going to MennoCon19, a gathering of Mennonite Church USA in Kansas City, MO.
From previous MC USA connections, they enjoy a partnership with a Mennonite church in Cleveland, Ohio. They recently participated in a service trip to visit and work alongside their sister church in the inner city.
Events geared to youth in summer include activities every Wednesday morning like gaga ball, science activities, and a week-line drum and fitness camp.
Intergenerational events for the whole church include food, fun and service. They use the "Stone Soup" resource from Vibrant Faith. An intergenerational women's rafting retreat was held this summer using meditations from Nurtured By Nature, by Patty Friesen. 
Youth and others from the church connect with the community through Christmas musicals and dramas preformed with The Bank Theatre, a local community theatre company. The children and youth decide where the proceeds from the performances are donated.
They support and volunteer with The Bridge, a local supportive housing organization for youth.
The whole church goes camping for a weekend at Wheatley Provincial Park.
Prayer:
Ruth and Sarah request prayer as they try to be present to very busy youth and look to support and connect with young adults who have left the community for education, etc. Pray for inspiration, vision and to be attentive and flexible to the ongoing challenges in these changing times. 
---