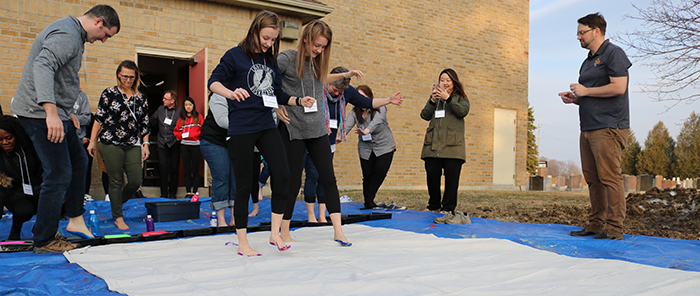 By Marilyn Rudy-Froese and Jean Lehn Epp - On a Saturday in April, 50 youth and adults from Montreal, Leamington, Niagara, Toronto, and Waterloo Region, representing MCEC congregations, regional clusters, schools and camps gathered for a day of consulting, dreaming and visioning. Our day together was facilitated by ULEAD, a team building and training organization that specializes in reaching youth, youth workers, educators and youth-serving organizations to support leadership development, strengthen individual skills and build cohesive, effective communities and teams. They used the appreciative way approach to help us look at our challenges, gaps and invited us to think deeply about what we want to focus on and what we want more of. It was a full day of interactive conversation and team building activities. The work we did at this event will guide us for the next phase of dreaming about youth ministry within MCEC.
Here are some reflections participants shared after the day together:
What was affirming about the day?
"It is not about greater, better and fancier programs. It is about deep, meaningful relationships grounded in faith."
"I liked the feeling of community and inclusivity. I feel that is a huge strength of the Mennonite Heritage."
"It was very affirming to be with people who come from different congregational experiences, yet have a desire to seek out a common direction."
"It was affirming to know that it's not only our church that's dealing with somewhat of a crisis to keep the youth at church, whether it is because we don't have enough kids coming, or because we don't have enough leaders to keep the programs running."
How did the day stretch you?
"The day made me able to interact with different people from churches all over Ontario, and step out of my comfort zone in a good way."
"I felt stretched in trying to understand how the church could adapt."
"The day stretched me in that it made me pay attention to the other realities outside of my own church experience.  It is helpful to be reminded that while my church figures out how to get youth to attend youth group events, other churches struggle to find more youth to attend their church.  The day gave me more perspective."
"It gave me an opportunity to examine my current faith and the faith journey that brought me to where I am today, and how we can as a church contribute to the faith journeys of others."
"It was an interesting experience doing so much deep and heavy work at a table with people I had never met before, but I think that was an asset. We were able to come together in our common goal - furthering the work of youth ministry and leading youth to God."
"I was stretched when trying to dream about the future within the context of our current culture but also thinking about how culture will change in 5, 10, 15, etc. years"

What makes you hopeful about the church?
"What makes me most hopeful is that we are beginning to figure out that youth in relation to the church requires a different approach than it did in the past.  For my parents, being a youth in the 60s church meant being initiated into the rituals of the adult church.  It was learning to be good adults in the church.  For me, being a youth in the late 80s/early 90s church meant being entertained and challenged so that we would remain in the church.  The reasoning seemed to be that if church was fun, we would keep coming.  While it seemed to work for me, it has been increasingly apparent to me that it is not working well for my students, nor did it ultimately work well for many of their parents/my peers.  I am hopeful that we are beginning to truly value the role that youth play in the health of a church.  It is no longer about getting them to change to fit the past church ideal nor is it about amusing them until they are ready to join the past church ideal.  It is recognizing that the church IS its members and that includes the youth.  They are able to contribute in the present.  Churches who recognize this and make a space for youth to help shape direction are the churches with the best chance of survival.  Churches that stick to one of the previous models are largely old and often struggle with relevancy.  This feels to me like we are working in a good direction for the health of the Church."
"Knowing that in Children's (and youth) Ministry, the seed will and has been planted.   As we try our best to encourage a Christ based function or event, we are hopeful too for relationships to form and the word of God spread."
"I am hopeful that all the amazing work that was done that day will come to fruition and I feel confident that it will be so."
"I was hopeful by the number of youth who attended for the day - a commitment for them. I am hopeful by MCEC investing in that day - clearly wanting to help with youth ministry - bringing many different folks together to share their experiences and dreams for youth ministry."
"Some hope is found in MCEC recognizing that this has been a gap for some time and that action is being taken to fill that gap and support the youth within our churches to the best of our ability."
Provocative Proposition
One of the things we needed to do was to come up with a Provocative Proposition, a statement that is affirming, that is stating what we want, rather than what we don't want; a statement that stretches us, challenging all of us to raise our game, but still be achievable; a statement that is exciting, that says something new, vivid and engaging; and a statement that is grounded in real-life examples of the best current practice.
Here is our statement that will guide our work and vision:
Investing in intentional, unconditional relationships with youth, walking with them towards a fearless faith in Christ Jesus.
This is the statement that will guide our year of discernment, as we live into what it means to be intentional in our actions, unconditional in our relationships with youth, and walking with them towards a fearless faith in Christ Jesus. This statement invites us also to be fearless in navigating this new terrain; and to claim a faith in Christ for ourselves that is fearless. We think this will be a stretching experience for us, but we believe that we can do it; that this work is important and worth it. We believe that just as Christ has been central to all we have done in the past, Christ will continue to accompany us and the Holy Spirit guide us and give us wisdom.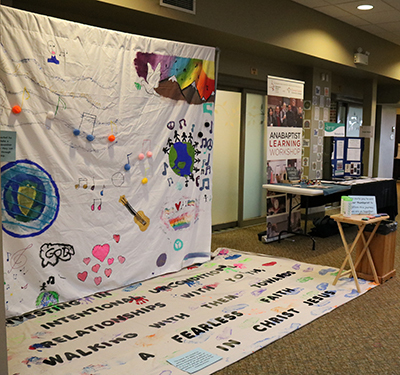 In preparation for our visioning day, participants were invited to respond to several statements. One of the statements was this; "The issue/gap or challenge in MCEC Youth Ministry is…"and people were invited to choose a response. One response was clearly ahead of the rest -   lack of commitment. While we didn't explore this concern on our visioning day directly, it is something worthwhile to continue to explore. What does lack of commitment mean? Whose lack of commitment are we thinking about? Does it reflect a feeling that MCEC isn't supporting youth ministry like it did when a full-time staff person was in place? Is it reflecting a lack of commitment from churches who are struggling to support declining youth ministries? Does it reflect a lack of commitment from youth to engage with the church? It reflects all of these things.
Programs alone with not be enough to weather the changing landscape that our youth and families and churches are experiencing.
To move toward supporting sustainable youth ministry in our churches we all need to be investing considerable time and energy reflecting, planning and supporting. We will need to look inward at who we are as MCEC, as churches together and look outward to see what others are doing in supporting youth.  We want youth to be an active part of the church but what are we inviting them to? What do we need to hold on to and what do we need to let go of to envision a youth ministry across MCEC. Programs alone with not be enough to weather the changing landscape that our youth and families and churches are experiencing.  A vision for youth ministry should in its essence be actively inviting youth to nurture relationships with God, build meaningful engagement in the church and be boldly passionate about being a faith presence in our communities and our world. We need to be actively listening to the hopes and dreams of youth within MCEC and looking to support youth as they struggle with the spiritual challenges of what it means to be a person of faith in this time. In this year of discernment, we want to focus on the church and its future with youth and those who work with them.
Actions Being Taken Over the Next Year:
A Youth Ministry Dream Team is being formed with youth and adults from the visioning day including representation from schools and camps, to continue the dreaming and visioning process within MCEC for the next year. This team will meet via Zoom monthly, work with the provocative proposition, create spaces for listening, discern directions and give guidance for youth and junior youth events through out the year.
Jean Lehn Epp's Interim Youth Ministry Resourcing contract is being renewed till June 2020 to give leadership to the Youth Ministry Dream Team and continue resourcing through blogs, connecting with churches about their youth ministries and sharing them on social media, resourcing events and the listening process.
Events
Jr. Youth Make A Difference Day
October 6, 2019 @ Hidden Acres Mennonite Camp - DATE & LOCATION CHANGE FROM PAST YEARS!
Youth Retreat with ULEAD
November 1-3, 2019 @ Silver Lake Mennonite Camp - DATE CHANGE FROM PAST YEARS!
Resourcing Webinar for Pastors & People who work with Youth - NEW EVENT!
Fall 2019
Pastors & People who Work with Youth Retreat - NEW EVENT!
March 6-7, 2020 @ Hidden Acres Mennonite Camp
Jr. Youth Retreat
May 2020 @ Silver Lake Mennonite Camp
---
Main Image: