by Jean Lehn Epp, Interim Coordinator of Youth Ministry Resources - For those who work with children or youth, September is like the January of the church calendar. Everything begins in a new way: new youth are introduced into the group, events begin again in a regular way, Sunday School resumes after the Summer break, and people seem ready to engage a regular routine again.
Starting a new season is a great opportunity to stretch what you do with youth and establish new patterns of being together. Often those first few events in September are key to integrating new youth whether they are moving up from younger grades, are new to the church or are checking out youth group for the first time. Be intentional about games or activities that help youth to interact with others outside of their friendship circle or grade to encourage them to get to know each other. When youth have a sense of belonging, they are more likely to continue to connect throughout the year and be more open to deeper conversations about God and faith.
September is also the time when individuals or families are more likely to consider looking for a faith community. How is your church preparing to welcome new people? In all the busyness that September brings, it is important to make time to be attentive to new people or people attempting to reconnect after taking a break from church life. Be sure families and youth have a personal invitation and the information they need to access youth events.  
Starting a new season is a great opportunity to stretch what you do with youth and establish new patterns of being together.
The first Sunday after Labour Day is also a great time to acknowledge the ministries that happen on a Sunday morning outside of worship, like Sunday School, coffee and discussion or any other ministries that run alongside of worship. Praying a blessing over these ministries and their leaders is a way of thanking the many volunteers who give so much of themselves into these ministries. It is also a way of valuing the time that is spent preparing and engaging that is sometimes overlooked or assumed, without being acknowledged. Volunteers are such an important support to the ministries of the church that any opportunity to affirm them should be taken.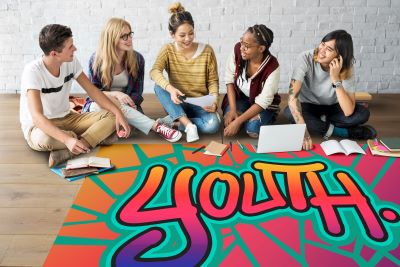 Consider the following to start the new year of ministries off in encouraging ways:
Consider gathering materials and compiling school kits for Mennonite Central Committee or a local group that distributes backpacks or school supplies to help make the transition into the school year a less stressful time for students. Consider sharing about them or blessing them in worship before they are sent on their way.
Consider speaking a blessing or using a litany for the children, youth, Sunday School teachers and leaders as they start the new year.
Celebrate milestones or present Bibles to those going into grade 8/9, grade 6/7 or those moving from nursery to kindergarten, depending on where the transitions are for your congregation.
Invite youth and junior youth to reflect and share about where they have encountered God over the summer. This is also an opportunity to reflect and support those who are dealing with loss or have had a difficult summer just as much as celebrating the joys of summer.
Use the first youth event or first Sunday School time as an opportunity to brainstorm about issues, themes or Bible stories they want to study or focus on in the coming year.
Work on a covenant of being together. Have youth or junior youth brainstorm how they want to be respected or show respect to others. Make the covenant visible somewhere in the space that is regularly used or online so they are reminded about it throughout the year.
Resources:
Elsie Rempel, who shares her gifts in the area of faith formation, has created resources to use in worship to bless teachers through a Teacher Appreciation Prayer, as well as ideas for the first Sunday as a gathered community in, Worship Resources For Sunday School Promotion.
Wild Goose Publications has brought together a collection of reflective liturgy focused on youth and youth issues, in Youth: Readings, Prayers and Other Liturgical Resources.
Start a new tradition by inviting children to bring their backpacks for blessing. Check out The SALT Team's ideas for backpack blessings.
Need some ideas for celebrating life stages? Looking for rituals or symbols to express meaningful faith connections to transitions? Explore, Wrapped in God's Love - A Milestone Ministry Resource: Planting Seeds of Faith, Growing Generous Hearts, edited by Barbara Fullerton, Rick Hiebert, Annamarie Klassen and Jeff Steckley.

Even though we don't use the same language to talk about celebrating graduates as our neighbours in the US do, Brad M. Griffin shares some food for though on how to structure our milestones celebrations so they value even those who have not achieved the success of others. Check out his blog, Five Ways to Rethink Senior Sunday at Your Church.