Focus: Steinmann Mennonite Church, Baden, ON
Profile: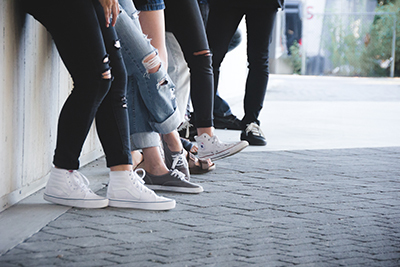 Steinmann Mennonite Church in Baden, Ontario is a congregation that gathers youth from the surrounding communities.
Sara Erb, Pastor of Faith Formation, supports the sponsors in their ministry with youth.
Senior Youth meet three times a month with each event representing a different aspect of service, social and faith formation.
Within the mix of events is a "family dinner" where someone in the church hosts the youth for a meal and conversation around a particular question or Bible passage.
The group enjoys volunteering at the local thrift shop.
They collect canned goods on Halloween for Wilmot Family Resource Centre.
They help at Saturday Night Suppers at Stirling Avenue Mennonite Church.
They serve alongside adults in the church for special fundraisers. 
They have participated in Toronto Opportunity for Learning and Service (T.O.O.L.S.)
They joined others from the church on a learning tour with an Indigenous community in Timmons. 
To promote an intergenerational atmosphere, the youth invite an adult to be a conversation partner in the regular Sunday School setting as well as host events for the adults like game nights or Christmas caroling in the community.
They have even had a homework night where youth could get extra support for challenging assignments.  
Jr. Youth is being gradually build up again as a result of transiting from a LOGOS program which involved a meal with afterschool programing. As this ministry develops, they are considering collaborating with other area churches to grow this new initiative.   
Prayer:
Sara invites prayer for the youth and leaders as they enjoy serving, building community and growing deeper in their relationship with God. God continues to surprise and reach out to youth in their everyday lives. 
---