"My experience and passions have come together in this role."
– Marilyn Rudy-Froese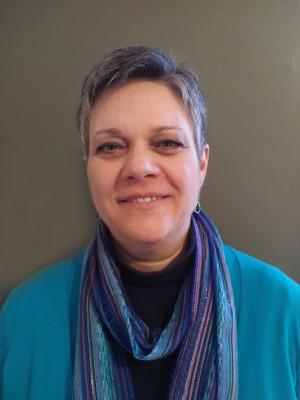 "I do not take lightly the sacred trust that I am being given," says Marilyn Rudy-Froese, newly appointed MCEC church leadership minister. "It has been humbling to participate in this process, knowing that much prayer has surrounded this discernment, and that MCEC consulted broadly to best determine what was needed at this time. I recognize now the many ways in which God was forming me for this role, especially the times when the formation was uncomfortable and the path was rocky. I am grateful for all of these experiences and for the many paths that have led us to this moment."
MCEC is pleased to announce the appointment of Marilyn Rudy-Froese to the position of church leadership minister. David Martin, MCEC executive minister, says, "The church always benefits from experienced and skillful leaders to follow God's lead in giving shape and direction to the church. Having the right person in this role is crucial to MCEC and the congregations that we serve. Marilyn brings an excellent complement of gifts, skills, experience and training to this role. We are grateful that God has blessed Marilyn is this way and has called her to MCEC in service to our pastors and other leaders."
"Coming back to MCEC after a time away has been like coming home, albeit to a home that continues to change and become even more multi-cultural than it was before," says Marilyn. "I am committed to engaging that diversity and am excited by the possibilities this intercultural community has to be the Body of Christ together."
Marilyn brings over 20 years of experience in pastoral and volunteer roles within MCEC and the Indiana-Michigan Mennonite Conference. She is currently interim pastor at East Zorra Mennonite Church (Tavistock, ON), has served as pastor at Berkey Avenue Mennonite Fellowship (Goshen, IN), Stirling Avenue Mennonite Church (Kitchener, ON), as well as chaplain at Fairview Mennonite Home (Cambridge, ON). Additionally, she has ministered as a clergy coach for Mennonite Church Canada and has been a sessional lecturer at Conrad Grebel University College. Her volunteer roles have included ministry credentialing team membership and AMBS Pastor's Week (now Pastors and Leaders) planning committee while in Indiana. She has also served on MCEC's Leadership Council for eight years. Marilyn has an MDiv from AMBS and has completed course work related to transitional ministry training and teaching healthy boundaries.
 "It feels like my experience and passions have come together in this role and I am honoured to embark on this journey of ministry together," says Marilyn. "For the last number of years, I have followed the changing face of the church with great interest and curiosity. I have been reflecting on where the church is headed and what kind of leaders are needed for the church of today and the church of tomorrow. I've been challenged and inspired as I have engaged with pastors at all levels of experience and heard their visions for the church and how God is calling us to move out of our comfort zones and build relationships with our neighbours and communities around us."
A consultation group within MCEC gave input into the position description ensuring that the terms defined the anticipated needs of church leadership in the next five to ten years. The consultation group and the search committee emphasized that the right person would have many years of pastoral experience, solid education, demonstrated leadership skills and the ability to work in a variety of cultural, ethnic, and theological settings.
Marilyn is married to Allan who is Associate Professor of Christian Proclamation at AMBS.  They have three young adult children. Marilyn will join MCEC at several events in the coming months and transition into this position throughout the month of May.