Sharing Our Story
Being Church in an Urban Neighbourhood

The vendors at Hamilton Farmers' Market couldn't understand why their applications were being denied. They had been a part of the farmer's market for years and now they were losing their spots. When Matt and Jeanette from The Commons became aware of it, they were greatly distressed.
In 2010, the market had been newly renovated and all vendors needed to reapply for their spots. The city decided to rebrand the market as a "local market," favouring the vendors whose produce was grown within a 100-mile radius. This looked like a great idea – unless you were one of the 23 immigrant vendors with an "ethnic" focus who were being denied, even though they had a long history of service to the community.
Matt and Jeanette, along with a core of community members and market patrons, founded the Friends of the Hamilton Farmers Market to support the vendors. They began advocating to the City of Hamilton but they were not getting results or even being heard. However, upon contacting Andrew Potter, a reporter from MacLean's magazine, suddenly there was national attention. In the end, all the vendors who appealed to the City retained their spots. Mr. Potter pressed The Friends about what had driven them to help the vendors. Matt and Jeanette were able to share with him that they were a part of The Commons and that for them, it was something they did because of their faith in God.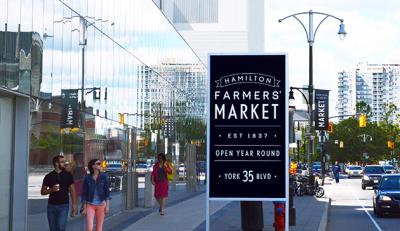 "Because we value community and justice and we saw something that was detrimental to the community and to the idea of what justice should look like, we had to act," says Randell Neudorf, pastor at The Commons. "It's not like the church did a project but it is an example of two people internalizing the values of the church."
With a large percentage of people from The Commons working in non-profit organizations, social services, volunteering or involved in neighbourhood associations they daily live out their faith as an extension of their church community. "When we put ourselves in all these community situations," continues Randell, "we are caring for our neighbours and bringing a pastoral presence into that space."
The Commons set aside certain times of the year as sabbath seasons. As a small congregation, most of the people are usually preparing some part of each worship service. The sabbath rhythms allow The Commons a time of rest, a time when they can simply come to the gatherings and simply receive. "By paring down our programming and church commitments, we make it possible so that people have time to do community things," explains Randell. "We encourage people to be involved in the wider neighbourhood and we talk about that as being an expression of the church."
The Commons, an MCEC supported congregation, ministers in an urban neighbourhood within Hamilton, ON.
Save
Save
Save