Sharing Our Story
Focus on Mental Wellness at Tavistock Mennonite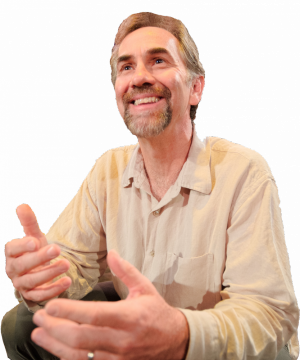 The buzz across the room quickly quieted as the lights came down. The anticipation was tangible as a tall, toque-wearing character took centre stage. And so it began.
It actually began months earlier as the leadership at Tavistock Mennonite Church dreamed what a year focused on mental health and mental illness might hold for their congregation.
Connecting with MCEC's Go & Grow fund provided the impetus for bringing Ted Swartz to their community. Ted Swartz is a playwright and actor from Ted & Company TheatreWorks in VA. Laughter is Sacred Space explores his relationship with his friend and business partner, Lee Eshleman, who struggled with bipolar disorder and depression until he took his own life in 2007.
The evening featured Ted and was supported by the presence of local congregations and four or five mental health and wellness organizations. At the end of the evening, Ted came "out of character" and fielded questions from the packed house. Several people were able to share that they had personally used local counselling services.
"I think it has given our congregation permission to move into areas that have been often talked about in hushed tones," reflects Paul Adams, pastor at Tavistock Mennonite Church. "It seems to me that if we don't address this theme we are not being good stewards of the trust that is ours."
Go and Grow provides money to congregational efforts to extend ministry within their congregation and community.
Save
Save
Save
Save
Save