Sharing Our Story
God Turned My Face to My Community
"It was like I was on my roof and I saw the houses all around me. God literally turned my face to my community," says Lori Hoffman. "I sensed God saying to me 'The people are already here.'" In that quiet moment, an idea became to form within Lori to have a driveway party with her neighbours.
Arriving home from a ReLearning Community weekend, buoyed by the things discussed there, and that Kairos moment she experienced in her quiet time with God, Lori set about creating invitations for a driveway party – Winter on Williams. The date was set, plans were made, invitations were created, cut apart and ready to go. There they sat upon her desk, waiting to be hand delivered to her neighbours.
"Everything stalled there," says Lori. "Creating invitations was not hard. But the thought of putting them in my neighbour's doors -  that was being vulnerable! I felt pretty naked walking up and down the street and I had to force myself to walk up to each door!"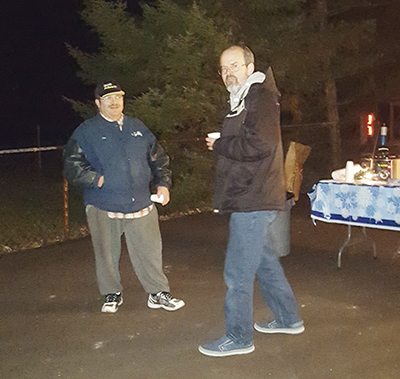 The night of the party came, the driveway was decorated, Christmas music was playing, tables were set up, the hot chocolate was steaming, and the fire was started. What if nobody comes, Lori remembers thinking. "I did plant one person," she admits. "I asked my friend, 'Will you please come over so I'm not standing alone in my driveway?'"
There was no need for her to have been concerned. People did start to come – probably 13-15 neighbours arrived over the course of the party and in fact, some stayed well into the evening. 'This is a good idea' was heard as neighbours met each other, some for the first time. "Now I talk to my neighbours more if I see them on the street. I want to give people access to my life as we become friends." Lori says. "I'm looking forward to this year's party."
When the opportunity came for Lori to be involved in ReLearning Community with her congregation, Hillcrest Mennonite, she jumped at the possibility. She is now looking for more ways to connect with her neighbours. She explains, "ReLearning Community is relearning how to be community wherever your community is – whether it is on your street, in your office, or with your kin." 
---
Kairos Moment: A moment in time when the eternal God breaks into your circumstances with an event that gathers loose ends and knots them together in God's hand.
Save
Save
Save