Sharing Our Story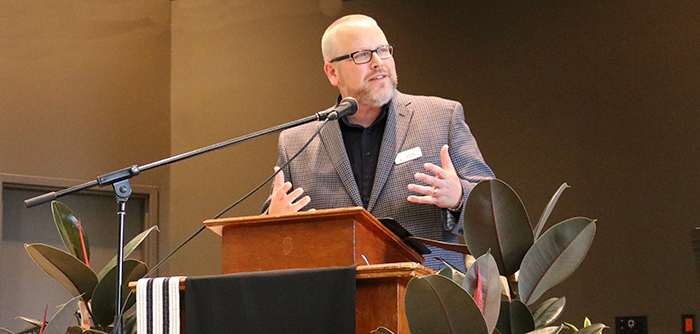 Norm Dyck Appointed MCEC Mission Minister
"Deepening our relationship with God translates into the conviction that disciples are constantly sent to live and proclaim the Good News. If we declare that we are on mission but never talk about Jesus then we are on someone else's mission. You don't have to train someone to talk about what they love," says Norm Dyck, newly appointed MCEC Mission Minister. "Mission ministry is about living into the tension of praying that God would send more laborers, while also engaging the work ourselves; inviting disciples to live into their calling, while also encouraging and challenging the church to risk new adventures even in the face of unpromising circumstances."
"It is as though the handprint of God is engraved upon our hearts, reminding us of the intimate connection of covenant relationship."
David Martin, MCEC Executive Minister, announced Norm Dyck as MCEC's new Mission Minister beginning 2020.  In his introduction of Norm at MCEC's Annual Church Gathering, David cited Norm's experience. "Norm's many roles within the church position him well to lead us on mission.  Norm has been a pastor for 15 years, and has served as the executive secretary of church engagement with Mennonite Church Canada. Additionally, he was chairperson of both the MCEC Mission Council and the MC Canada Christian Witness Council. I look forward to Norm challenging and guiding us."
Norm continued in his address, "In relationship with God, we experience the abundance of covenant faithfulness that reminds us of the identity that our God of boundless love and mercy has impressed upon us. It is as though the handprint of God is engraved upon our hearts, reminding us of the intimate connection of covenant relationship."
A key component of this position will be guiding the church outward into the world while declining resources and membership inclines us to withdraw. "Over the next decades, the church will face challenges that will test our resolve to continue to love while holding to truth. If we love alone without truth – eventually someone will ask if you really care, because love alone is not motivation to action. The flip side is also true – people enraptured by the truth can be of no earthly good to the rest of us. If you become so certain of something that it causes you to love another less, then the truth that you are clinging to is not of the LORD.  Leadership is found in the balance," says Norm.
Norm will continue in his current role as MCEC's Mission Engagement Minister working alongside Brian Bauman whom Norm has long considered a mentor.  "Norm is passionate about the mission of the church," says Brian. "I am excited about the energy and experience that he brings."
In his address, Norm emphasized that the mission of the church requires all God's people to contribute, "As Paul's body metaphor in Corinthians suggests, all parts work together to achieve the mission tasks and functions of the body."
Norm is a member at Listowel Mennonite Church and lives in Listowel with his wife Rose and four sons, Malachi, Jonah, Elijah and Nehemiah.