Sharing Our Story

Early in the morning, while it was still dark, the priest arrived at their home and hurriedly ushered the young woman inside. "This is the young woman I told you about," he said to the owner of the house. "I will be back tomorrow morning." The priest quickly left and the owner's wife enveloped the younger woman in an embrace and said, "Welcome to our home. Come, have some breakfast."
The young woman stayed with the family all day with the doors locked and the windows darkened. It would not be good for anyone if the army found her there. Meanwhile, the priest moved on to the next community within the city to find another safe home in which to hide his young charge the following day. This occurred each and every day for a year. "The priest was not obligated to do this," recalls Victoria Linares. "I depended on the members of my church to shelter me and make sure that the army did not know where I was."
Victoria Linares was arrested in 1986 by the army in El Salvador. "When they took me," she says, "I thought I was dead! At the very moment I was taken I started praying and praying." Although she was arrested in a case of mistaken identity, the army did not release her but held her and fabricated a story that she was a terrorist. They relished in their capture of her. "The story was so unbelievable! I was on the front page of all the newspapers in El Salvador surrounded by the guns they falsely said were mine," remembers Victoria.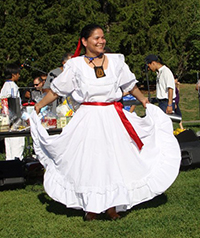 She was transferred to a women's prison for an undetermined amount of time; the assumption was that she would never be released. The judge spoke with her husband and offered a letter of freedom for Victoria, but at a very high monetary price. The money was raised and Victoria's release was secured, along with the release of four other men whom she really did not know. "With this money," said the judge, "you are buying this letter of freedom. Nothing else. I am not responsible if she gets killed the same day."
The priest arrived for Victoria and quickly took her to a safe house. Within 24 hours the four men who had also been released were indeed dead. Victoria, however, was protected by her church community.
"During the years of conflict, most of the members of my community were killed or they simply disappeared," Victoria explains. "When I left my country, I was devastated – without hope. I remember  begging my mother to leave with me but she refused. She said to me, 'No, you are the one that needs to go right now because I would rather have you far away from me than have you dead.'"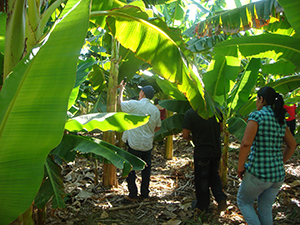 Victoria arrived in Canada and immediately began searching for Salvadorians. Over the past three decades a small group has come together with a dream to help those who are back home and to improve communities in El Salvador. The group works together selling pupusas at local festivals to raise money that they individually send to El Salvador.
They have helped with a banana plantation. The community in El Salvador had the land for the plantation. They worked with someone to test the soil in the proposed plantation to see if it was conducive to planting bananas. They then helped to find banana plants that would grow well in that soil. Another community developed a fish farm. "We encourage the community to split the profits three ways," Victoria explains. One third of the money is used to pay salary, one third is used to buy more stock or plants, and one third is put aside to save and help families in the area. It allows them to grow as a community." The group of friends were also able to help one community finish their school building.
Victoria attends First Mennonite Church in Kitchener, ON. Rene Baergen, pastor at First Mennonite, says, "Many of our folks are simply struggling to survive when they arrive in Canada. We encourage Victoria and make space for her group. What they do is inspiring. Her connections to El Salvador are natural and are already in place. As a congregation we celebrate that."
"I would call myself blessed," says Victoria."I have lived in El Salvador and know how it feels to have no hope of anybody beingthere for you. The need is so great: I wish we could do more."
She and her friends are now working toward registering as a charity so that they can be of even more help to the people in El Salvador.