Sharing Our Story

"If your heart is comfortable in joining MCEC and becoming a part of the Mennonite family," said Pastor Fanosie, "then that is wonderful! You can do this!" These words confirmed the leading that Pastor Yared was sensing in his heart. He is pastor at Meheret Evangelical Church in Kitchener, ON.
Mehert Evangelical Church, established 20 years ago, has 120 members who worship in Amharic. Their youth are a group of 50 or so who function in English as do the children of the congregation. They rent space in St. Mark's Lutheran Church in downtown Kitchener, worshipping together on Sunday afternoons.
"When I arrived as pastor two years ago I saw that the congregation was not connected to a denomination," said Pastor Yared. "When I checked with Mennonites, I felt as though the Holy Spirt guided me to them." Pastor Yared remembered Pastor Fanosie from Ethiopia and contacted him. Fanosie is pastor at Zion Mennonite Fellowship and is part of the MCEC Mission Council.
In November the Mission Council met with Mehert Evangelical Church leaders for an interview and discussion. They recommended to MCEC that Mehert be received into membership. Mehert Evangelical Church is excited to be received by delegates at the Annual Church Gathering in April.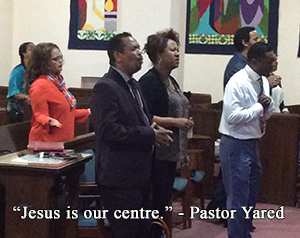 "As a church and as a pastor, my big dream and vision goes to the great commission in the Bible that Jesus gave to us in Matthew 28:20. We want to go and make disciples and do evangelism with all people in Canada," says Pastor Yared. "Twelve or thirteen people have accepted Jesus Christ as their personal Saviour since I came two years ago. Some of them were baptized last year. I am leading two of them in foundational teaching right now and they will then take baptism."
Mehert Evangelical Church, along with meeting on Sunday afternoons, also meets for weekly prayer and fasting. They gather for a mid-week teaching time and each Sunday morning before worship the men meet for prayer and breakfast.
"We don't even need to tell anything about us," says Pastor Yared when asked about their congregation. "I only want to mention that we are ministering, preaching and teaching the kingdom of God and the Gospel of Jesus. Jesus is our centre, our head, our leader - no one else."
They have a small group meeting in Guelph with an evangelist from their congregation and they have a vision to open a congregation in Hamilton. "People have asked us to come but we don't have enough evangelists and pastors," says Pastor Yared. "We are limited right now but God is able - He can provide everything."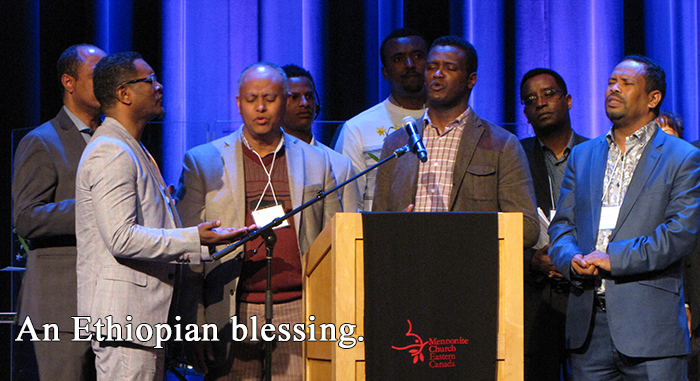 Save
Save
Save
Save
Save
Save
Save
Save