Sharing Our Story
New Congregations Join MCEC
"As we have been transitioning and getting to know MCEC over the last few years, it has felt like a homecoming. Today it feels like we are arriving home," said Caleb Ratzlaff as Westview Christian Fellowship was welcomed into MCEC this past April.
Westview in St. Catharines, ON is built on a parish church model. They consider everyone who is a part of their Queenston neighbourhood also to be a member of Westview Christian Fellowship.
Five congregations were received into membership at the MCEC Annual Church Gathering. "Each congregation brings a level of passion and enthusiasm that is contagious," said Brian Bauman, MCEC mission minister.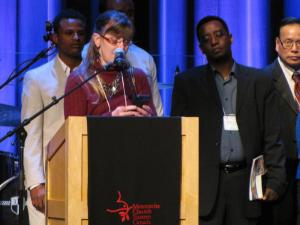 "When we started our journey with you we felt welcomed and blessed," shared Lyne Renaud, co-pastor of Hochma in Montreal, QC alongside her husband Michel Monette. "In you we have found a family who is like us - open to others, welcoming and grace-filled." Hochma is a faith community in one of the most under-resourced white Francophone neighbourhoods within Canada.
Meheret Evangelical Church in Kitchener, ON,   established 20 years ago, joined MCEC as five men from the congregation sang a blessing over MCEC. "Our main goal is to accomplish and fulfill the Great Commission of Jesus found in Matthew 28:16–20," said Pastor Yared.
Oromo Evangelical Church of Ottawa has felt that their congregation's sense of mission fit best with MCEC. After reading Revelation 5:9-10 Wandimu Senbeto, a member of the elder's team, said, "I am happy that we are one, and in one kingdom. We are happy to serve God with you."
Lao Canadian Evangelical Mennonite Church in Toronto, ON has been an emerging congregation in MCEC for the past 10 years. As they move into full membership, co-pastor Chinda Kommala reflected, "You may wonder why LCEMC is invested in Mennonite faith. If you are experiencing war, then you will know what Jesus and Mennonites are all about. Thank you for supporting us on this journey."
MCEC walks with many congregations in the areas of church growth and adoption through the Mission Council.