Sharing Our Story
New Ethiopian Church Emerges in Ottawa
Wondimu Senbeto, chairman of the Oromo Evangelical Church of Ottawa's elder group and Teso Felmina, vice chair,
relax after their Canadian Mennonite interview on October 13 in Gatineau/Ottawa.
---
The Oromo are the majority ethnic group in Ethiopia. Currently the government there is made up of another ethnic group which some claim are oppressing other ethnic groups leading to people fleeing Ethiopia as refugees. This seems like a bad echo of the experience of many Ethiopians during the 1974–1991 reign of the Derg, a Marxist-Leninist group which took power in a coup and ruled with a government regime of terror. Many fled Ethiopia during those years when living as Christians was forbidden and all foreign mission groups were banned. Wondimu Senbeto, chairman of the Oromo Evangelical Church of Ottawa's elder group has been in Canada nine years and Teso Felmina, vice chair, twelve years, both having fled Ethiopia and been many years in transit before landing in Canada as refugees. They say that previously Ethiopian ethnic groups lived together in peace but that the present government has stirred up animosity between groups, practicing a divide and conquer mentality.
The Oromo Christian Fellowship was established in 2004, changing its name to Oromo Evangelical Church in 2010.  They began as a bi-weekly fellowship, praying and studying the Bible together, meeting home to home. By 2010 they had outgrown houses and so began to meet in rental space at St. Martin's Anglican Church. Senbeto, an accountant, made sure that the congregation organized carefully with a constitution, bylaws and registration with the Canadian Revenue Agency. They now meet weekly with around 50 people taking part, 27 of which are adults. Since 2011 they have also organized a yearly conference of Oromo speaking congregations. The congregation has chosen to not hire a pastor for the time being instead having the elders' council, together with a deacon board, running the church. They have bought instruments to keep youth and young adults involved and keep to a careful budget.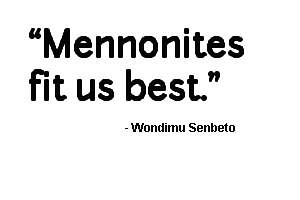 They have applied for emerging church status in Mennonite Church Eastern Canada and expect to be received in April 2017 even though they were not affiliated with the Meserete Kristos Church, the Mennonite World Conference member group in Ethiopia. They chose to join MCEC because "Mennonites fit us best" says Senbeto. Their sense of mission, as well as the content of their preaching and teaching fit best there as they strive to bring the gospel to both Ethiopian and others.  Felmina and Senbeto are under no illusions – the next generation will be English speaking and need a partner like MCEC. When Felmina's young son called during the interview the conversation between father and son was in English. MCEC's focus on peaceful co-existence with Christ as the source of that peace has lead them to join Mennonites in peace and evangelism.
They hope that their congregation will be steadfast in faith, tackling obstacles which keep them from following Christ. Spiritual growth and reaching others with the good news are key goals and they want to lead lives that are examples for others, so that others will want to come and follow Christ too. Such lives will be "lives with God, having hope in the Kingdom of God" where all nations are welcome. They see that their youth have the potential to go around the world with the good news.
At the same time they have concerns that they would grow in numbers, though not at the expenses of spiritual strength. First spiritual strength they say, and then numbers. Looking at their homeland and other places they see the troubles of being followers of God in this world. But they are convinced that even in persecution that God is with them. They trust in God.
Save
Save
Save
Save
Save
Save
Save