Sharing Our Story
One Size Does Not Fit All
"Our monthly meetings with Arli were phenomenal," says Charity. "I think that the structure for huddles really helped our group to run well. It provided us some accountability and kept us moving forward. Each person responded to a question and received one-on-one immediate feedback from Arli. You couldn't just check out; you were expected to enter into the conversation."
Charity and her husband, along with another couple, bought a house together in Kitchener with a hope to impact their neighbourhood positively, being church to those around them.
At ReLearning Community they met Devon and Meredith from The Network Church, Andrew and Rachel from Move In, and Sarah from Waterloo Mennonite Brethren Church, who are all intentional about impacting their neighbourhoods. With Arli Klassen as their huddle leader, they began to meet monthly. "Our huddle group was unique in that these different neighbourhood groups – groups that were trying to do church differently in their neighbourhoods - were pulled together to be one group," explains Charity.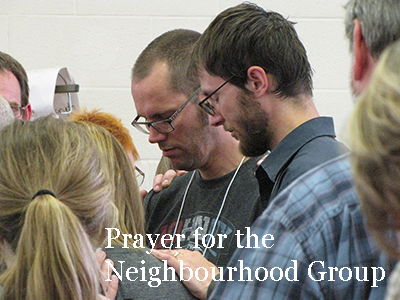 However, as the weekend retreats progressed, Charity found herself unsettled by the 3dm Europe model of discipleship as a hierarchical structure where 'I disciple you and then you disciple someone else.' "I think that we teach each other," says Charity. "We can be intentional about relationships without putting one person above the other. I see discipleship as more of a back-and-forth relationship."
Their household has completed the two-year ReLearning Community process and are trying to determine what it now means for them. "I think ReLearning Community helped bring about personal growth within our household," reflects Charity. "It has helped to draw out some of the differences in the way that we see how we should proceed."
Despite her unease, Charity is appreciative of the ReLearning Community experience.
"As I understand it, MCEC's hope is that ReLearning Community will give a starting place for the church to develop into whatever it needs to be in the future," says Charity. "No one knows what that is but ReLearning Community offers a place to have those conversations. I have a sense that MCEC staff understand that it is not a 'copy and paste' kind of experience. I think ReLearning Community is very valuable and I hope that MCEC is able to make it their own."
Save