Sharing Our Story
Pilgrimage for Indigenous Rights
"There are many good reasons to pull out a pair of walking shoes," says Tamara Shantz, pastor with Pastors in  Exile. "The Pilgrimage was a way to embody my desire for a new way of being in relationship with Indigenous Nations; my hope is that our current oppressive structures would be replaced with relationships marked by justice, respect, and reciprocity."
Over 50 people came together in May 2017 for 22 days to walk 600 kilometers from Kitchener to Ottawa in support of Bill C-262, a private members bill that seeks to harmonize Canadian law with the United Nations Declaration on the Rights of Indigenous Peoples (UNDRIP). The Declaration cites minimum standards for respectful relationships between Indigenous and non-Indigenous peoples.
Led by Mennonite Church Canada and Christian Peacemaker Teams Indigenous People Solidarity, each day the group would cover 25 – 38 kilometers. At 5:00 p.m., they were welcomed by their  next host congregation.  Following a supper meal,  teaching and debriefing they fell exhausted into their sleeping bags at 10:00 p.m. to repeat the same routine the next day.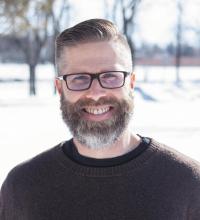 Steve Heinrichs, director of MC Canada Indigenous Relations reflects, "The Pilgrimage was an effort to embody a fragile but real witness. A witness to Indigenous peoples – that many of us settlers are heeding your calls to action. A witness to the church – that we need to move beyond good words to costly, reparative action. And a witness to God – that we need the Spirit to bring freedom for the captives, even here, in Canada."
As one response to promote the passage of the Bill, MC Canada has printed and given away well over 20,000 Walk the Talk postcards which are pre-addressed to the House of Commons.  They are still available from CommonWord bookstore. Bill C-262 will be up for debate in late November.
MC Canada Indigenous Relations helps Mennonite faith communities grow in awareness of host peoples and nurtures justice-based friendships through prayerful dialogue, sharing of educational and financial resources, and collective action.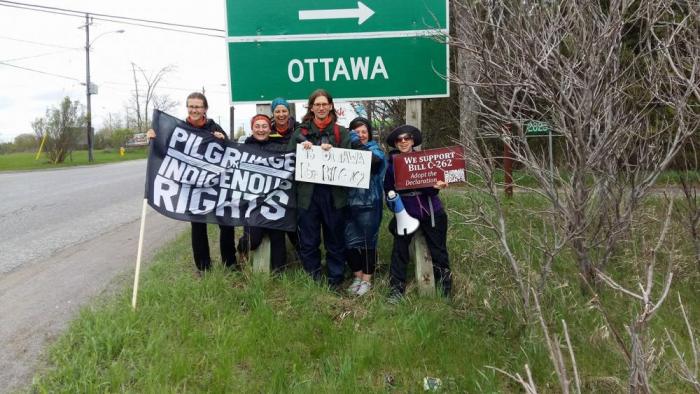 Save
Save
Save
Save
Save