Sharing Our Story
"Speak the speech, I pray you!"
"Speak the speech, I pray you!"
At the 13th annual MCEC Lebold Fundraising Dinner on June 6, keynote speaker Alan Sapp took the stage and, with a dramatic arm gesture, delivered these lines from Shakespeare's Hamlet:
"Speak the speech, I pray you, as I pronounced it to you, trippingly on the tongue; but if you mouth it, as many of your players do, I had as lief the town-crier spoke my lines. Nor do not saw the air too much with your hand, thus, but use all gently; for in the very torrent, tempest, and, as I may say, the whirlwind of passion, you must acquire and beget a temperance that may give it smoothness" (Hamlet, Act III, scene 2, line 1).
"These words from Shakespeare offer some of the best acting advice I've ever heard," noted Alan Sapp as he began his presentation entitled, "The Dramatic Arts and Christian Formation." He then shared personal stories, humorous reflections, and spiritual insights based on his many years as an actor and his 10 years as a drama teacher at Rockway Mennonite Collegiate. Drama holds the power to change us, noted Sapp, whether we are the actors or the audience members.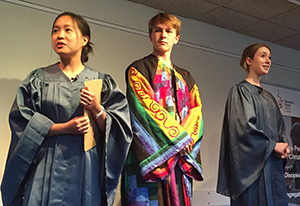 Earlier in the evening, three students from Rockway Mennonite Collegiate presented a short dramatic sketch portraying what might have happened at the pearly gates when two angels encounter the newest arrival to heaven: the thief who died on the cross beside Jesus. Actors Vivian Chau, Peter Jones, and Abigail Sapp presented both the humour and the seriousness of the script, and audience members were given a colourful portrayal of God's upside-down kingdom.
Over 80 people attended the Lebold Fundraising Dinner hosted at Conrad Grebel University College. The proceeds of the dinner support the Anabaptist Learning Workshop (ALW), a program offered by Mennonite Church Eastern Canada (MCEC) in cooperation with Conrad Grebel University College.
Those in attendance included Eileen and Ralph Lebold, in whose name the fundraising dinner was established. The event was also supported by ten corporate sponsors and numerous individual donors in addition to those who attended the event.
MCEC Executive Minister David Martin and Conrad Grebel University College Interim President Jim Pankratz gave greetings and highlighted the partnership between MCEC and Grebel. ALW Coordinator Matthew Bailey-Dick provided a brief overview of ALW activities over the last year.

Save
Save
Save
Save