Sharing Our Story
Through the Eyes of a Youth Minister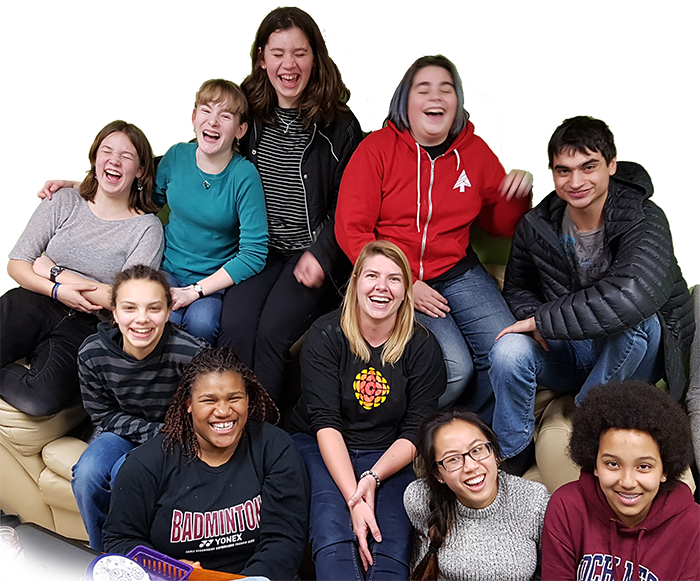 "When I started three years ago, I would sit in my office on a Wednesday night and wonder if more than one or two youth would show up. Sometimes only one or two would come so we would go for a coffee instead," says Carrie Lehn, youth minister at Ottawa Mennonite Church (OMC).
Three years later OMC has 17 – 20 youth in their group. Carrie credits this to large numbers of youth in those age groups, families who are very involved in the church, but also to the fact that Ottawa Mennonite has been intentional about youth ministry. "Ottawa Mennonite Church has always done youth ministry well," says Carrie. "They have had a full-time youth pastor for many years. Even when they felt that they did not have enough work for a full-time youth pastor, they would pay the youth pastor a full-time salary and he or she would volunteer outside of the church for some of those hours." Youth pastors at OMC invested in the larger community: some did chaplaincy and others worked at the university with Christian student groups. "OMC has a history of really caring about their youth and the fruit of that is being seen," she says.
Carrie values long-term youth ministry. "Too often youth pastors are perceived as someone who can stay for three or four years," she says. "If you stay longer, you can build stronger relationships and trust." Carrie points out that she can be a bridge between youth, who are now young adults, and the congregation when those young adults come home from college or university.
"Authenticity is key to keeping our youth," she says. "I am not a parent, and I imagine it is very anxiety inducing to think that your youth might not be a part of the church or follow in your faith footsteps. We need to be very careful not to operate out of an anxiety of losing our youth. One way we combat that is being very authentic and honest about our struggles and
our doubts."
Carrie believes that youth ministry is a story-telling narrative; you tell your story and they tell their story, and you build a story together. "I try to bring people to the youth from our congregation to tell their life story so that we can all learn from each other. If a youth hears a story from an adult, and the youth is struggling with that issue too, perhaps that is an adult with whom the youth can connect and get support from," says Carrie.
Youth group was important to Carrie when she was growing up. Often it was the highlight of her week as she met with her friends. "It was a place to ask questions and to dig into faith," she recalls. "I found it to be this awesome space and I felt very mentored and loved by my youth pastors. I want to provide that for OMC youth. I want to give them the experience that I had."
Save
Save
Save
Save
Save
Save