Sharing Our Story
What In The World Are We Doing?
"It took us 18 months to get to a place where we are just starting to 'get it!'" reflects Norm Dyck, pastor at Listowel Mennonite Church. "If we had never been shaken out of this place of thinking that we could simply make changes and things should work, or if we didn't have that place of feeling completely lost at first, then I'm not sure we would be where we are now."
Listowel Mennonite had a seemingly slow start to ReLearning Community, but in fact, their experience is quite common. ReLearning Community is learning anew about discipleship. It is an intentional two-year commitment to engage in four weekend retreats, reading and learning, and working together on goals and objectives as a congregational team.
 "That second weekend retreat was where we were hit with this 'culture question' and it was so disorienting. What had we gotten ourselves into?" recalls Norm. "We were being pushed on the fact that you can't make a technical or easy change unless you are going to work at shifting culture first. It seemed to be too big of a task to consider."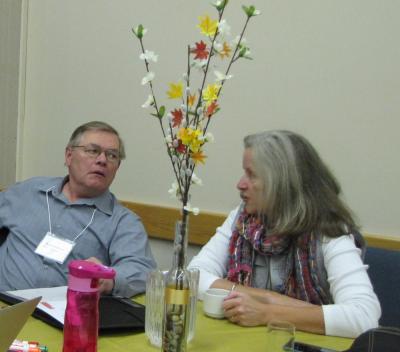 It was during the third retreat that the team became excited about the possibilities at Listowel Mennonite. "We started to think about ways we could shift our culture to a discipling culture," Norm says. The team went back to the congregation and developed a series of videos entitled "I Am Living Ink." Stories began to emerge from the congregation with a context of how God is at work in the most difficult, and equally, in the most normal of situations. More stories came to light as people became vulnerable with each other about how God is at work in their lives.
 "We won't have massive and exciting new things to announce every six months," predicts Norm. "Shifting the culture will change things over time and hopefully in five years we will look back and say 'Something has changed here at Listowel. We aren't the same congregation that we were before.'"
The team now moves into the Community of Practice, a next phase which focuses on how a discipling culture actually looks in a specific context.
"Living life on life is the place where vulnerable and real conversation starts to happen about what God is doing in our lives. The only way that someone is going to learn from me is if they walk alongside me," says Norm. "We want to grow disciples who are willing to be life on life with people in their neighbourhoods, community, and with each other in the congregation."
---
Technical Change: Logistical or detail changes - e.g. time of service
Culture Shift: Changing congregational culture to an intentional discipling culture