June 23rd

Living Into The Future

Ministry with Youth in the New Reality
by Jean Lehn Epp, Interim Coordinator of Youth Ministry Resources - If we look back to the beginning of the year, we took for granted so much of our in-person ways of ministering with youth. Seeing youth face to face, connecting youth with scripture around a circle of chairs or couches, lock-ins and games at the church, worshipping together in the sanctuary, are all part of the past. As we enter the summer and consider the fall, how are you preparing for the new reality of physical distancing, limited numbers, evolving guidelines and anxious hearts?
We long for everything to go back to the way it was so we can continue in our ministry uninterrupted. Yet returning as if nothing has changed could diminish the gifts that we discovered during this time of pandemic, crisis and isolation. Barriers have evaporated as we embraced online ways of connecting and creating experiences for youth to encounter God. Youth who were too busy to participate or lived at a distance from the church have been able to engage like everyone else. Since we have moved our ministries online, we have learned to lead more concisely and simply in an awareness of online fatigue and limited attention spans. We have spent more time checking in with youth and families to see how they are coping and to show our support. By moving to an online presence, we have simply caught up with youth in their use of technology to grow and maintain their friendships and connections. This season has created an atmosphere where we can more freely dialogue about difficult issues like mental health, staying safe, the impact of our actions, grief and loss. Since much of our ministry has been happening from home, we have looked after ourselves better by creating more boundaries around worktime and personal time.
Returning as if nothing has changed could diminish the gifts that we discovered during this time of pandemic, crisis and isolation.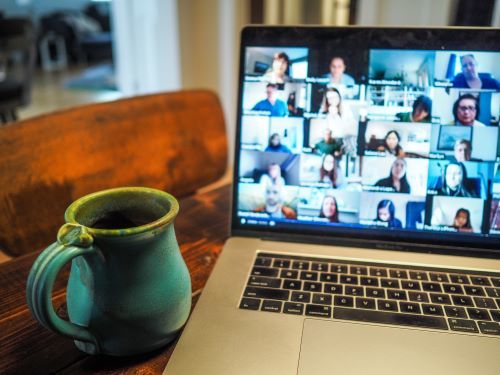 How do we carry these gifts forward into the future of our ministry with youth?
Get comfortable with technology and connecting online and keep investing in it. When restrictions allow for in-person events, plan for a balance of both physical events and online ones. Try keeping Bible studies or reflective times as online events so you continue to engage those who only connect online.
Treat the fall like a completely new ministry and as you plan events, take time for youth to get to know each other again and be in the practice of connecting. When you are able to have physical events, be clear around guidelines of how to be in the same physical space so youth know what is expected.
Continue to engage sponsors, parents and others who support the ministry with youth. Be prepared to give extra support to help them connect with youth online.
Get creative and be prepared to readjust where your energy should be placed. Explore the areas of your ministry with youth that are growing or have the most potential for growth. Search out those in the church who can support these growing areas.
Keep being as real and personal as you have been while being sensitive to boundaries.
Be radical in community building. Brainstorm together with youth and try out ideas by starting small and gathering support.
As you plan for the next year of ministry prepare for the long journey ahead. Stay away from short or easy fixes that address issues that you hope will be gone as we move out of pandemic mode. If your online presence has been planned for only a short time, start planning and building energy around it now to sustain it for the future.
The future of youth ministry that we are living into this fall and next year is going to be complicated and demand a different kind of energy. It will be essential to keep and build in self-care practices that will carry us through this new and unprecedented future that we are living.
MCEC Events:
Fall 2020
September 1, 4:00pm - Youth Pastors and Workers Zoom Meetings

October 4 - Make a Difference Day for Junior Youth at Hidden Acres Mennonite Camp & Online
October 6, 4:00pm - Youth Pastors and Workers Zoom Meetings

November 3, 4pm - Youth Pastors and Workers Zoom Meetings

November 13-15- Fall Youth Retreat at Silver Lake Mennonite Camp
November 21 – Inspire: Think like Jesus, Act like Jesus - a day for youth grade 11 & up and young adults at Toronto Chinese Mennonite Church or live online
December 1, 4pm - Youth Pastors and Workers Zoom Meetings

Winter 2021
March 5 & 6 – MCEC Retreat for Youth Pastors and Workers – Hidden Acres Mennonite Camp
Resources:
Many of the Mennonite camps are offering alternative at home camp experiences, weekly campfires and resources for children of all ages throughout the summer:
God's Story, God's Song, is an Anabaptist faith formation subscription that explores the entire Bible in 52 sessions. It was developed during the pandemic through the teamwork of Daniel & Talashia Keim Yoder, Jonathan Reuel and Addie Leaman for use in their church and they have made it available to others. The sessions are designed to be used at home by individuals, households or churches. The sessions explore scripture through hearing a story, placing it in the bigger picture, focusing on a key verse, options for prompts to aid in reading the story, an accompanying song culminating in an ongoing household project in response.
In the blog, Don't be a bystander: Resources for those in the movement for change, Jennifer Guerra Aldana opens up about her own struggle with impacting our world for the better. She shares the links to resources that can help us educate ourselves about racism, explore the history of white privilege, start conversations with youth, work for change in our churches and explore how we can take action.