November 6th

Firmly Established Steps
Yeabsra Agonfer: Following God's Call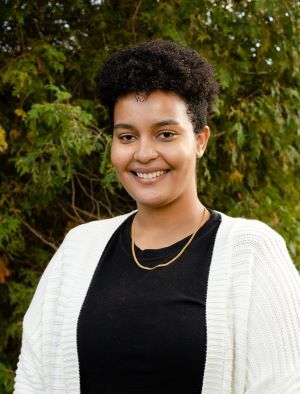 I was in my theory of knowledge course when two classmates randomly told me that I should study theology. I did not take it well. In my school courses I was being introduced to a lot of new thinkers who made me question my beliefs.
I never felt like I had a choice to not believe in Christ.
From a young age everyone seemed to know that I would go into ministry and secretly, I did too. I had an intense fascination with the Bible from a very young age. At the age of five I was sitting in service with my parents and around age eight, I would gather my family to share a word with them. As I got into high school I had a limited understanding of what it meant to serve God or be in ministry. The idea of working in a congregation for the rest of my life was not something that appealed to me. A huge part of it had to do with the way I saw pastors treated in my community and how inward focused church can become.
"Being here is really a testament of God's faithfulness."
Fast-forward to university, I was in a different place. I encountered God during my time in prayer in a way that I never had before. I was at a very low place emotionally in my life. I remember coming home for Christmas. I went upstairs, dropped all my bags and I did not even take the time to remove my jacket. I knelt to the ground and wept. God was there and it turned my life around. I wanted to dedicate every part of myself to him and that still rings true today.
I switched university programs, from international development studies to religious studies and sociology. When I made that switch, job security was something that concerned my parents and friends. That was never a concern to me; I had faith in where God was leading me. I let go of making plans from a place of insecurity and fear and started making plans from a place of desire and hope. I held on to the scripture "man makes plans but the Lord establishes his steps." From that point on I began to see things in my life come into place in such an effortless way.
"This role actually requires me to have an active relationship with God and my church."
I found my way to Conrad Grebel University College through my professor who came to be my chaplain. I lived at Grebel for a year, and during that year I met Marilyn Rudy-Froese, MCEC Church Leadership Minister. She invited me for coffee. We kept in touch and she invited me for a tour of the MCEC office. Walking in that tour, I had a feeling that I would probably work there someday. What drew me to MCEC and the Mennonite faith was the way that people express Christ's love. It was something that resonated deeply with me and it showed me the missing piece to my evangelical upbringing. It is very action and community oriented.
When this job opportunity at MCEC came up, I was excited. I had been involved in my congregation for five years and this new job met that desire of wanting to be in space that has a tangible impact on the community and wider church. Since coming into this role, I realize how diverse the congregations within MCEC are in their culture and expression. It has also helped increase my dependency and trust in God. I am not just working for a nonprofit organization; this role actually requires me to have an active relationship with God and my church. When I am thinking through things or wanting to speak into discussions, I have to sit back and listen to what God is saying. It is a spiritually nurturing space to be in. I do not feel like I am working in vain.
Being here is really a testament of God's faithfulness, and I sure know that "Grade 11 me," sitting in that theory of knowledge course, would never have imagined that eight years later she would be working at MCEC.