May 4th

MCEC Delegates Embrace New Identity and Priority Statements
Worship, celebration and thanksgiving at hybrid MCEC Annual Church Gathering
Over 300 people across MCEC gathered in-person (at Redeemer University, Ancaster) and online in the first ever hybrid MCEC Annual Church Gathering on April 29-30, 2022.
The Annual Church Gathering, led by Arli Klassen (MCEC moderator) who joined online, and by Diane Lichti (assistant moderator) who was in-person, focused on the parable of the mustard seed found in Luke 13:18-21.
"This is an historic gathering in the life of MCEC."
"I love the unexpected and untamed nature of this common plant," said Leah Reesor-Keller, MCEC executive minister. "This tiny seed is laden with unthinkable and unimaginable potential when the Spirit of God is at work unleashing the seed's power. The kingdom of God is always changing and growing in unexpected ways. We as the people of MCEC need to also be changing and growing, seeking God's surprising kingdom revealed to us in new ways as the world around us is constantly in flux."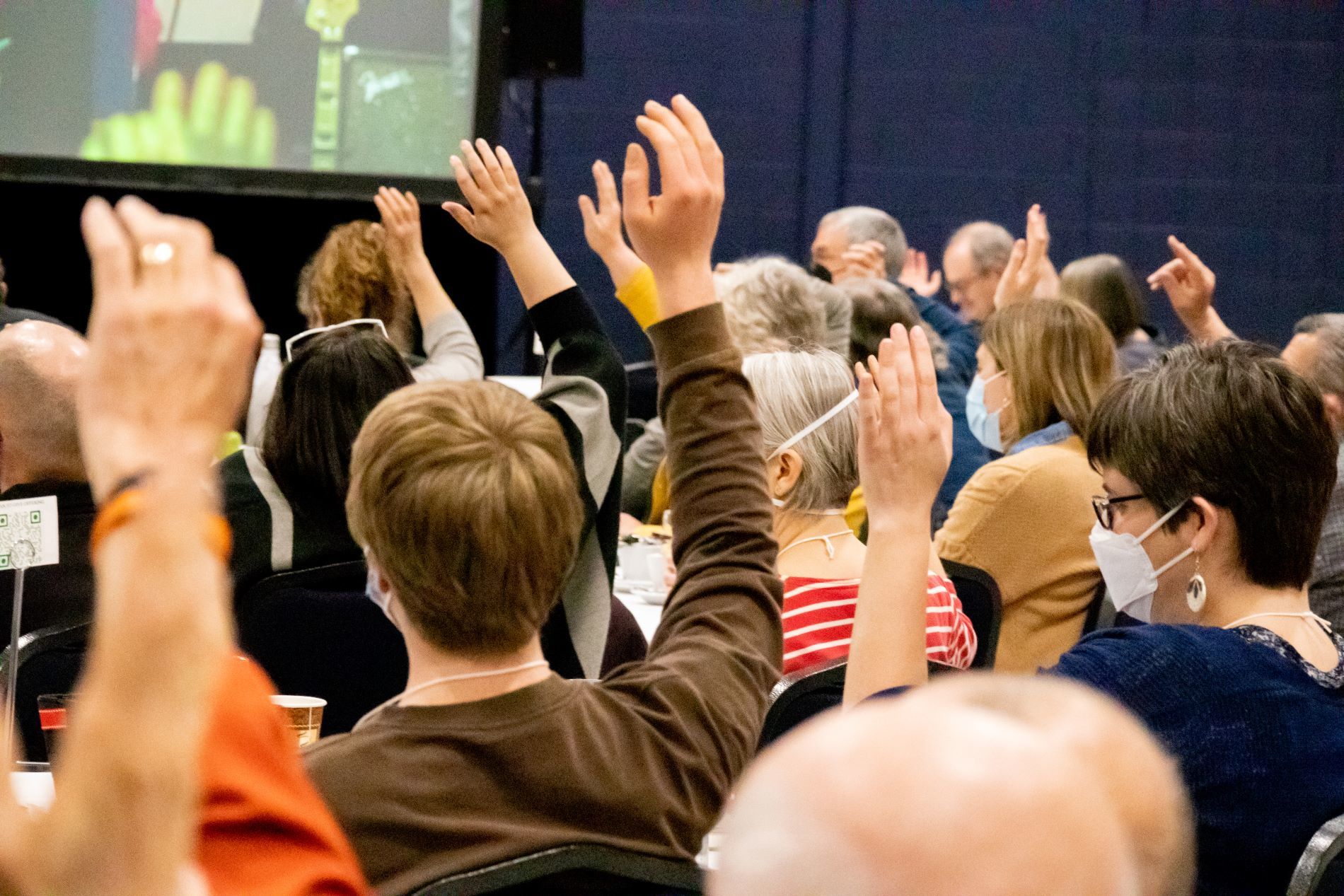 Delegates enthusiastically embraced new MCEC identity and priority statements. "This is an historic gathering in the life of MCEC," said Leah Reesor-Keller, MCEC executive minister. "After the yearlong Courageous Imagination process of listening and discerning together, we have adopted new identity and priority statements to guide us into who God is calling us to be, in this time and in this place."
Sean East, financial manager, and Rich Steinmann from Finance Council, expressed thanks to congregations and individuals for their financial support of MCEC ministry and noted record-high individual donations. Such support allowed finances to be consistent with previous year's spending, paving the way for next year to reflect new purposes and new directions as we live into our new identity statement and priorities.
Delegates approved the MCEC slate of volunteers including a one-year extension to Arli Klassen's role of moderator as part of a succession plan to strengthen organizational continuity and the MCEC strategic planning process. Ben Cassels will succeed Arli as moderator in 2023-24. Gladys Bender and the Gift Discernment Committee conveyed gratitude for the many volunteers and leaders who faithfully lead and guide MCEC.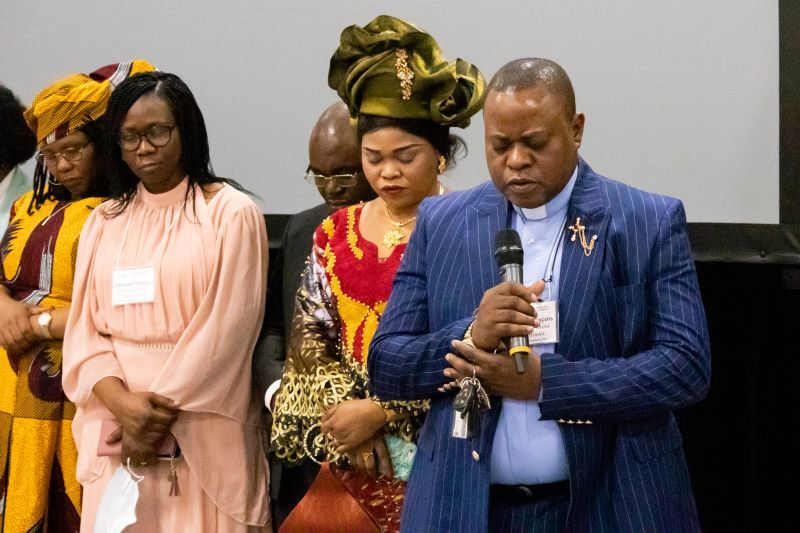 Delegates welcomed seven congregations and 25 pastors to MCEC. The new provisional congregations are Centre Béthésda Mennonite de Québec, Burning Bush Forest Church, Église de Dieu Réparateur des Brèches, Église Mennonite Agape, Goshen Mennonite Church and The Meeting Place. Meheret Evangelical Church moved to full membership in MCEC. Twenty-five ministers were installed and welcomed into MCEC as ministering persons. Marilyn Rudy-Froese, church leadership minister, led a service of installation and a signing of a covenant of ethics in ministry. Marilyn and Norm Dyck, mission minister, along with the newly installed pastors, led communion.
We are a diverse community, transformed by the love of God, inspired by the hope we find in Jesus, and called to action by the power of the Holy Spirit.
Jeanette Hanson, Mennonite Church Canada director of international witness, reminded us that Jesus compared faith to a mustard seed so powerful that it can move mountains. "We yield our lives, all that we have and all that we are, to God's control and for God's use in the world," she said.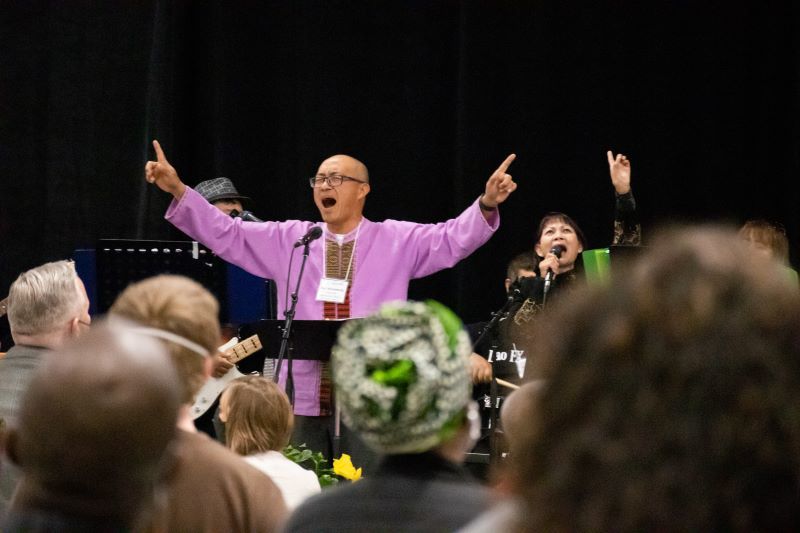 Worship, led by the Lao Mennonite Fellowship of Canada, was lively and heartfelt. Several songs and prayers came from the new Voices Together hymnal. More groups joined the team on Saturday: Brittany and Katie Anonthysenes from Grace Lao Mennonite Church, the Chin Christian Church choir, Markham Christian Worship Centre youth choir and Moses Mugisha and friends who led in the Courageous Imagination theme song.
"We are a diverse community, transformed by the love of God, inspired by the hope we find in Jesus, and called to action by the power of the Holy Spirit." Leah said. "We know that energizing congregations, encouraging leaders and embodying God's reconciling ministry for all creation are what will move us toward living out God's healing and hope."