June 22nd

A Labour of Love
Lao translation of Anabaptist Essentials now available.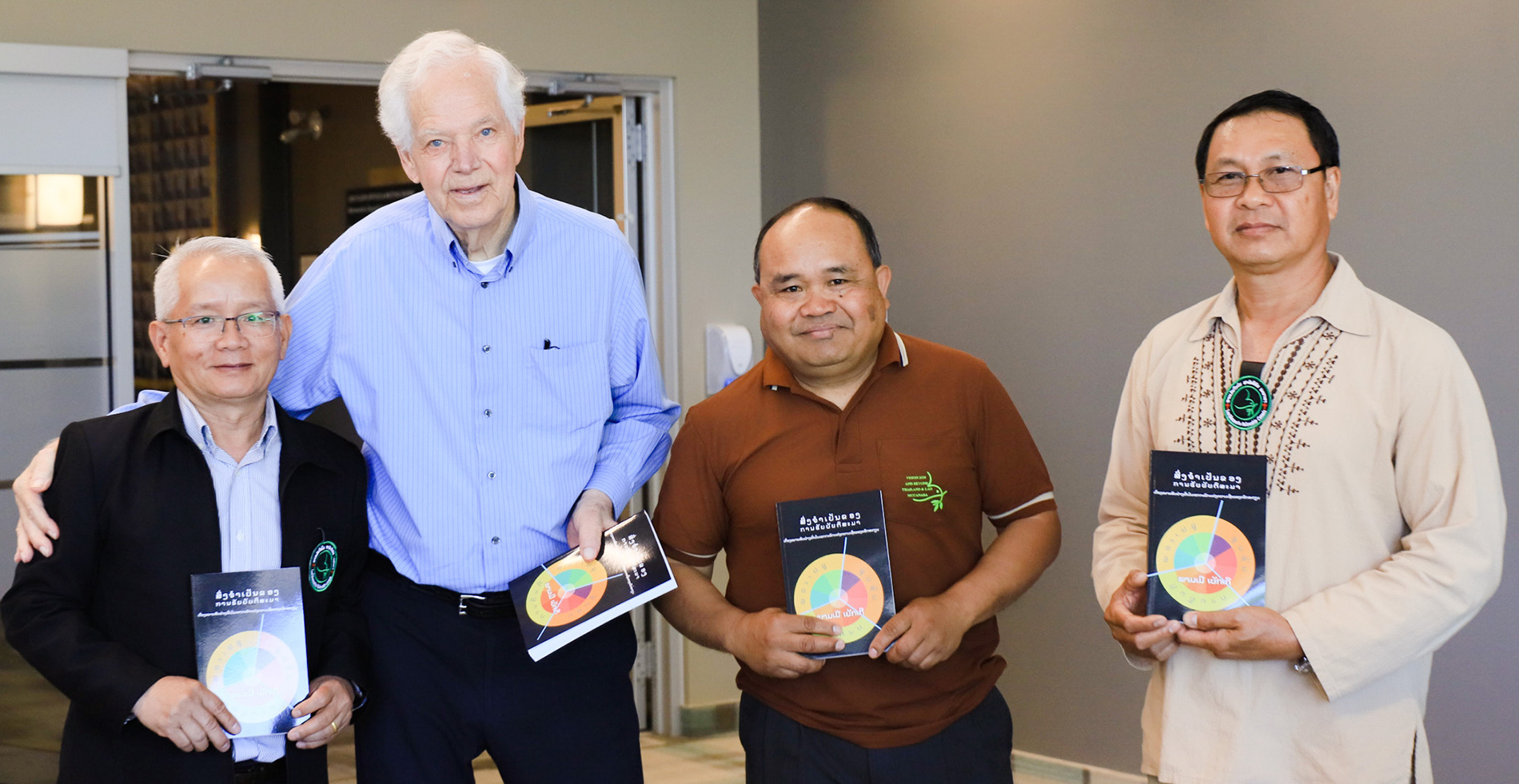 Sririsack Saythavy, Palmer Becker, Som Phanpha and Sangoune Ounbounheuang at the launch of the Lao translation of Anabaptist Essentials.
---------
MCEC is pleased to announce the launch of the Lao translation of Palmer Becker's book, Anabaptist Essentials. "This has been a labour of love!" said Norm Dyck, MCEC Mission Minister.
Through partnership with the Lao Mennonite Fellowship of Canada (which includes four MCEC congregations) and Mennonite Church Canada, MCEC printed 300 books for use in MCEC congregations, across North America and into Laos and Thailand. "We are very excited for this," said Som Phanpha, lead translator. "This book will help Lao congregations and people understand what it means to be an Anabaptist and how important it is to follow Jesus in daily life."
Som spoke of many meetings with Palmer Becker over the last few years. "Sometimes there wasn't a word in Lao for the English word," recalls Som. "I met many times with Palmer to find the full meaning of the text for interpretation."
"Each [review] I learned things I didn't see before."
Translated by Som Phanpha, Sangoune Ounbounheuang and Sririsack Saythavy, and working with Pandora Press, the team translated, reviewed and proofed many versions of the book. Som remarked how each time he understood a new point. "I was asked if I was exhausted by this project," he recalls. "I wasn't. Each time I learned things I didn't see before."
"I'm not sure we printed enough books," said Sririsack. "I dream to see it brought to Laos. I believe we will need to print more." This thought was confirmed by Norm Dyck who said that since news of the book release, he has received multiple requests from around the world for copies.
"God bless you as you send these books around the world!"
Palmer and Ardys Becker were at the book launch. "I've watched your dedication. You have given your life to this for a couple of years," said Palmer. "I'm excited to see it finished. Congratulations to the team for their time and energy and for the vision to share what it means to be a Christian: Jesus is the centre of our faith, Community is the center of our life and Reconciliation is the centre of our work. God bless you as you send these books around the world."
Jeanette Hanson, director of International Witness added her blessing praying that the book would be like the loaves and fishes that Jesus multiplied. "May the impact of the book multiply and be a blessing for many," she said.
A limited number of copies are available for a small donation of $25 to assist with printing costs. You can obtain a copy of this translation by contacting Norm Dyck at ndyck@mcec.ca.