January 16th

Deeper Faith at UMEI Christian Highschool
Chani Wiens, Director of Enrollment and Community Engagements/Teacher, UMEI Christian Highschool - "I am here. I am open. God is with us." These three simple sentences were repeated by students at UMEI Christian High School in Leamington to begin each chapel service during their Deeper Faith Days. Wendy Janzen, MCEC Eco-Minister, works with congregations to empower them in their worship and witness with their communities engaging in the important work of caring for God's creation.
She spent three days at UMEI doing just that, through three expanded chapel services as well as classroom workshops. The students and teachers listened to Wendy speak while huddled around a campfire. Each service began with a grounding exercise, followed by Scripture and words from Wendy, and then a solo, silent walk around the grounds, ending with a sharing time as a community.
The first day's theme was Listening to Creation and Creator and focused on praise – that all of creation praises God, including the birds and the trees and the sun. The second day revolved around Lament and Hope. Students each were given a card with the name of an endangered or threatened species from Essex County and were asked to consider how God saw that species and how God felt about their existence here on earth. The final day's focus was Rooted & Grounded – Sacred Reciprocity, and how we can give back to the earth from which we take so much.
The Kingdom of God is like water because it is everywhere, it flows through all living things and coats the earth with its healing.
- Justin Neufeld
A highlight was the smaller group sessions with Wendy, where students were asked to write a parable, which completes the sentence, "The Kingdom of God is like…" Grade 11 student Braedon Douglas shared, "The Kingdom of God is like a freshly cut tree stump. It seems to be all alone but if you look closely a whole new world grows out of it."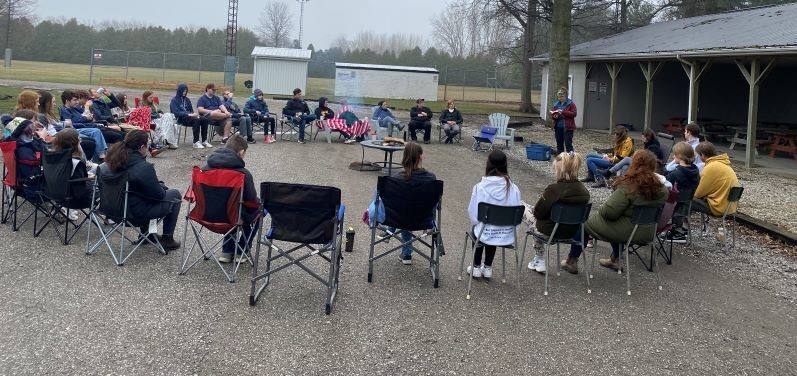 Another Grade 11 student, Justin Neufeld, wrote, "The Kingdom of God is like water. As I was walking, I noticed a puddle on the field. This made me notice the shine of the dew, and the moisture in the ground and the air. The Kingdom of God is like water because it is everywhere, it flows through all living things and coats the earth with its healing. Water does not have a form, it simply takes the form of whatever is holding the water. You pour water into a cup, it becomes the cup. The kingdom of God is like this, it takes many forms."
God created the beautiful, uniquely wild environment for us to find peace.
- Raylene Schartner
Students and staff alike felt encouraged, empowered and blessed by the time together as a community. "UMEI, like all Mennonite schools, is a place to combine solid academic learning with profound growth in our faith and relationship to God,"
remarked teacher and chapel coordinator Chani Wiens. "Not only did our time with Wendy educate UMEI students about creation care, it deeply rooted this care as an integral part of our relationship to the Creator. Wendy also connected us to our wider MCEC community and showed us different ways in which our churches can worship."
"Throughout the Deeper Faith days I found a unique understanding of how to connect with God without a roof between myself and the sky God created," reflected Grade 12 student Raylene Schartner. "God created the beautiful, uniquely wild environment for us to find peace."