February 9th

MCEC Congregations Gift $250,000 to Rockway Mennonite Collegiate Inclusion Fund
Fostering Christian Education in First-Generation Canadian Congregations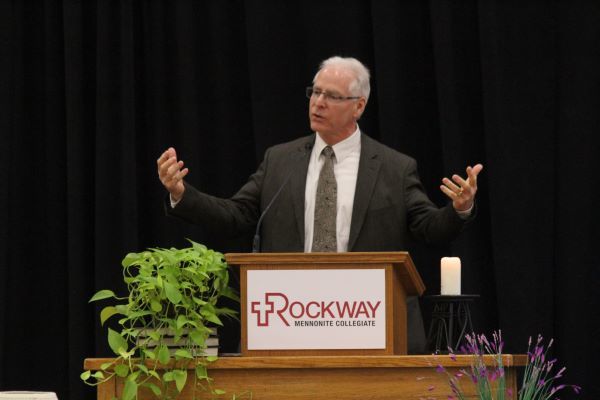 "MCEC is pleased to grant to Rockway Mennonite Collegiate $250,000 to establish an ongoing inclusion fund to make education at Rockway more accessible to youth from our new Canadian congregations," announced David Martin, MCEC Executive Minister, at the Rockway Mennonite Collegiate 75th Founder's Day Celebration. He continued, "This gift is from all the congregations of MCEC. Youth represent both the present and the future of the church."
In 2017, in support of an initiative by Mary Groh, MCEC helped to establish a diversity award at Rockway Mennonite Collegiate to break down potential barriers to Christian education for students in MCEC first-generation Canadian congregations. This gift will now establish the Rockway 75th Inclusion Fund and builds upon the initial success of that diversity grant. The fund will ensure that students currently supported by the diversity award can continue their education at Rockway. Funds will be available to other students from MCEC first-generation congregations as well.
"Thank you to all the faith communities of MCEC for your ongoing support of faith formation among the students of Rockway, especially students of MCEC first-generation Canadian congregations," said Christine Rier, Rockway Mennonite Collegiate Director of Advancement. "Once in a while in your career you get to work on something really special and this one has a lot of personal meaning." Christine Rier explained that she herself is a first-generation Canadian, arriving in Canada 40 years ago as a young child. "I think back to how difficult it was for my parents and the sacrifices that they made," she said. "I carry that chain of memory so I knew what this gift will mean to families."
"We know that leaders are not born, they are formed and we believe that MCEC and Rockway Mennonite Collegiate are key partners in forming faith and leaders." David concluded, "My prayer is that this gift of $250,000 will serve to strengthen our capacity to foster Christian faith in our youth."
"We know that leaders are not born, they are formed."
- David Martin, MCEC Executive Minister