See, I am doing a new thing! Do you not perceive it?
I am making a way...
Isaiah 43:19
Our Hope is to Facilitate a Journey Where:
All voices are empowered to share how we can courageously follow God together.
Connections are made with each other and between congregations through conversations.
Together we will imagine and distill our shared values and mission of MCEC for the future.
Questions Guiding our Journey

How do we listen for God?
Where is God at work doing new things? Where have we experienced God at work?
Who are we together? What is the church that we are becoming?
How is God calling us as the church together?
How do you feel God is calling the church to respond and adapt to the changing local and global context?
Beginning the Journey with Prayer

Read a message from Leah Reesor-Keller, MCEC Executive Minister, as she shares about the Courageous Imagination virtual prayer gathering that took place on February 14, 2021. The journey itself is as important as where we end up. Like a pilgrimage, it is a shared experience that will transform us along the way. The outcome is the mission, values and strategic priorities that will shape all of us in the years to come. Beginning this journey in prayer roots us in the past, grounds us in the present and stretches us into the future.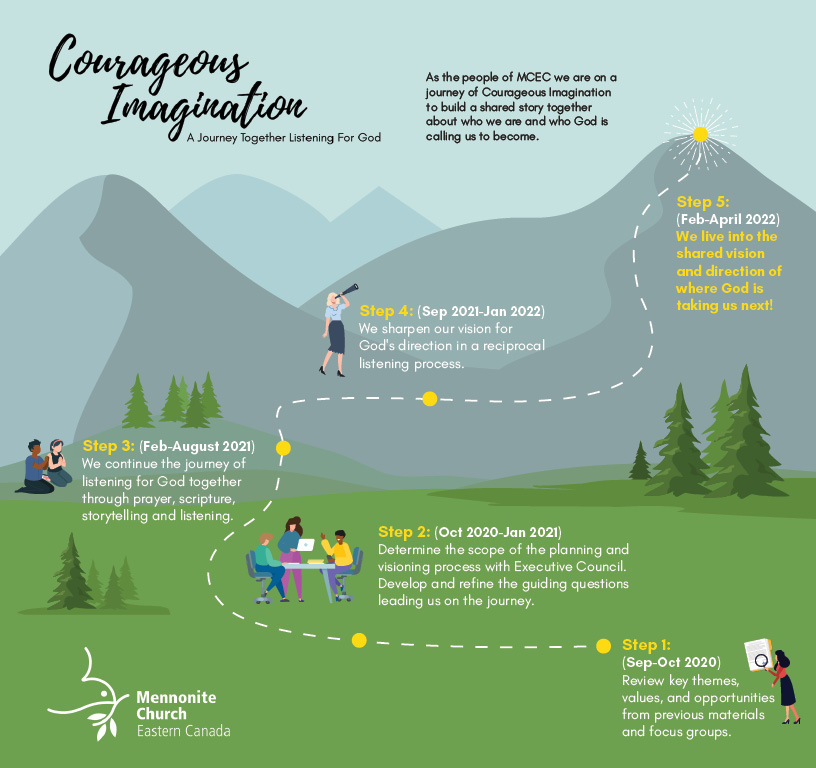 Share your Thoughts
Share your thoughts and ideas on "Who are we together? What is the church that we are becoming?"

Send us an email or letter. Post on Social Media and add the hash tag #MCEC, #MCECCourageousImagination, #CourageousImagination
Participate
In the upcoming Courageous Imagination Events.
June 17th - Podcast Discussion Forum on Journeying Towards Indigenous and Settler Relations with Mim Harder, Lyndsay Mollins Koene and Herb Sawatzky
June 24th - Podcast Discussion Forum on Navigating Hard Conversations with Youth with Carrie Lehn
June 30th - Reflecting on the Podcast Journey with Mollee, Hanna and Leah
What's Coming...
The best parts of a journey are the conversations and shared experiences along the way.

Check out what we're working on below and share the resources from previous events and posts.