2021-2022 Courageous Imagination: Living into the Journey!

Discernment Documents 2022 - English
Minutes from 2021 Annual Church Gathering
Executive Council Actions
Slate of Volunteers
Congregational Transitions - New Congregations
Financials 2021
Spending Plan/Budget 2022
Pastoral Transitions
Year in Review - Mennonite Church Canada and Regional Churches
Discernment Documents 2022 - French
Procès‐verbal - 2021
Les actions du conseil exécutif
Liste de candidats

Congrégations joignant MCEC
États financiers (31 janvier 2022)
Plan de dépenses / budget
Transitions dans les Ministères
Rapport annuel de l'Église mennonite du Canada
Audited Financial Statements January 31, 2022/États financiers audités
MCEC Identity Statement and Priorities - Translated here in 20 languages! Praise be to God.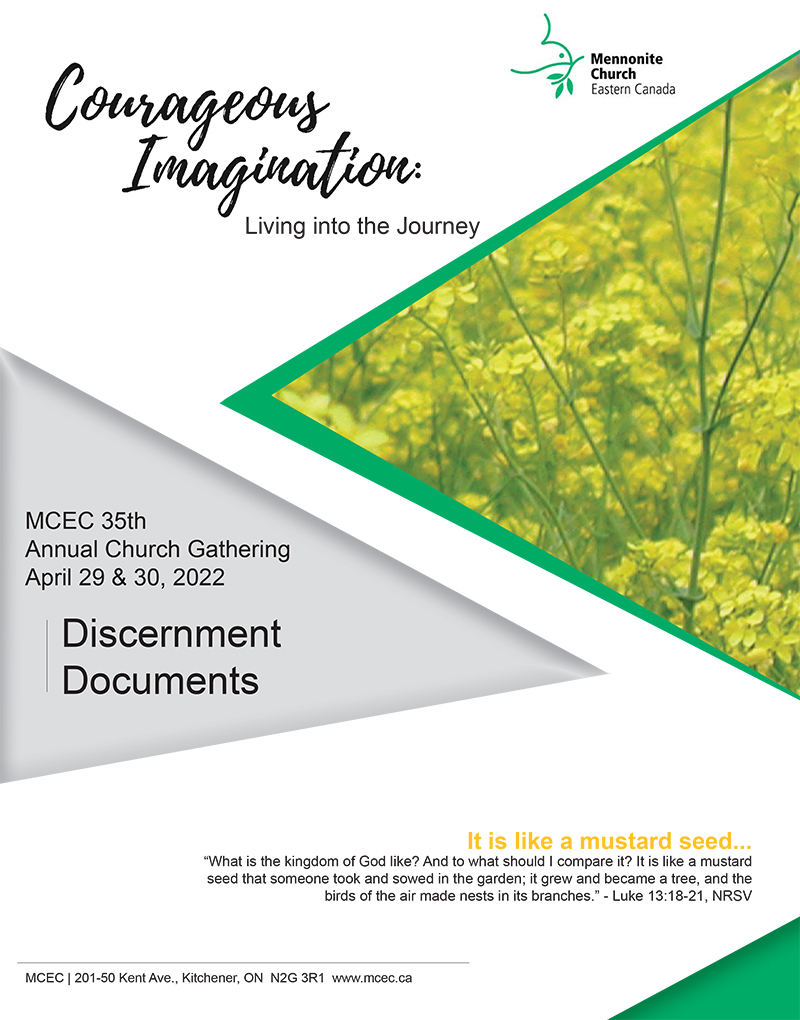 2020-2021 Courageous Imagination: Join Us For A Journey!

Minutes from 2020 Annual Church Gathering
Executive Council Actions
Slate of Volunteers
Congregational Transitions - New Congregations/Congregations Closing
Financials 2020
Spending Plan/Budget 2021
Pastoral Transitions
Year in Review - Mennonite Church Canada and Regional Churches
Procès‐verbal - 2020
Les actions du conseil exécutif
Liste de candidats

Congrégations joignant MCEC
Les congrégations fermées en 2020
États financiers (31 janvier 2021)
Plan de dépenses / budget
Transitions dans les Ministères
Rapport annuel de l'Église mennonite du Canada
A Kingdom Impact - Mission
A Lifelong Learning Journey - Leadership
MCEC@Quebec - Mission
Relationships Across International Borders - Mission
Support for Youth Ministry in MCEC - Youth
The Next Normal of Pastoral Ministry - Leadership
We Are Ready! - Intercultural Ministry
Mennonite Church Canada - Doug Klassen, Executive Minister
Mennonite Church Manitoba - Michael Pahl, Executive Minister
2019-20 - We Are One Body

Minutes from 2019 Annual Church Gathering
Executive Council Actions
Slate of Volunteers
Congregational Transitions - New Congregations/Congregations Closing and Withdrawing
Financials 2019
Spending Plan/Budget 2020
Pastoral Transitions
Year in Review - Mennonite Church Canada and Regional Churches