Annual Church Gathering Materials
A Word From Our Moderator... We Are One Body!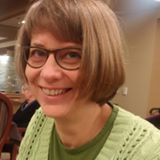 Whether we come together in spirit, online or in prayer scattered across Eastern Canada, we remain one body. These times are reminders that the church has never been about the building. Some of our Mennonite churches use the language of meetinghouse to remind ourselves that we the people are the church. And in these days of being unable to gather for worship or prayer in groups larger than 5 people, we remind ourselves that we are and remain the church, whether we are gathered or scattered. We in MCEC together are part of the Body of Christ, scattered over cities, neighbourhoods and streets, like salt and yeast which do their best work when they are scattered.
We are and remain the church, whether we are gathered or scattered.
Change is part of life, and a sign of life. MCEC staff continue to resource congregations and support pastors, even as congregations continue to celebrate births, remember deaths, provide pastoral care, and change leaders. We have congregations leaving MCEC, with words of blessing shared for us and them. We have congregations joining MCEC, again with words of blessing shared for us and them. We have staff coming and going. We will look for ways later in the year to offer our appreciation to David Martin who has served us as our Executive Minister for the last 15 years. We will welcome and celebrate the appointment of Leah Reesor-Keller as our incoming Executive Minister, starting in late summer. As congregations and as an area church we will find ways to mark these changes in our body even in these times when we cannot gather together in person.
Below you will find Zoom Instructions, reports and documents. These reports and numbers summarize our life as one body. They are the markers and signs of life in our body, but they reflect in only a tiny way the immense stories of God at work in our body. Please read these reports with that awareness, giving thanks for the work of the Spirit in our body at MCEC.
Arli Klassen
MCEC Moderator
---
Materials
On-Line Meeting Platform: Zoom

Session:

Date: Saturday, April 25, 2020 10:30 a.m. to noon
Please join 20 minutes early
Test Meeting:
Date: Thursday, April 23, 2020 7:00 p.m
A time to ensure your computer is connecting probably. Test out polling, chatting and interpretation features. Important for first time Zoom users.
---
Notes:
With a large audience we need to moderate the session more than we would if the meeting was live.
The links will be provided to you by email. If you need assistance, please contact Mollee Moua at mmoua@mcec.ca.
Mollee Moua will be available as Tech Support throughout the Session and Test Meetings. You can reach her by email at mmoua@mcec.ca, through the zoom chat or by telephone at toll free: 855-476-2500 x 701.
Before the Meeting
It is our suggestion that you download the app to your computer as opposed to using the web browser version as the web version does not have access to the full features of the program. If you are on a tablet, you may also have limited options available to you. The instructions here are based on using the downloaded app version on your computer.
If you attend the meeting by phone or if you use the phone for audio, please contact Mollee Moua at mmoua@mcec.ca with your phone number so that she can verify you in the waiting room and admit you into the meeting.
Meeting questions can be submitted before the meeting via email at annualchurchgathering@mcec.ca
Entering the Meeting
When you log into the meeting, you will be placed into a waiting room until ushered into the meeting room. This allows us to verify participants.
Upon entering the meeting, please open your "participant" and "chat" windows (located at the bottom of the zoom screen).
You may choose "gallery view" or "speaker view" (top right corner of zoom window). Gallery view will give you the ability to see up to 49 participants. Speaker view will focus on the person who is speaking. We recommend speaker view for when the meeting is taking place.

In the "participant" window, you will be able to raise your hand.
During the Meeting
In the "chat" window, you are able to ask questions. Please chat your questions to Brent Charette during the meeting as he will be moderating the chat discussion. Brent will ensure the proper people field the questions. Please do not chat directly with the presenters as they will not necessarily by monitoring the chat feature.
Voting will be done through the "polling" feature. Instructions will be given at that time.
Translation is available. Please be in touch with Mollee Moua for more information. Please also note that you will need to choose translation when you return from a breakout room. There will be one breakout room session in the meeting.

Please note that this conference will be recorded. If you do not wish to be recorded, please ensure that your camera is off and your microphone is muted. You can also change your visual name. You can still participant in chat and polling options but your identity will not be public.


Tech Support During Sessions: Mollee Moua mmoua@mcec.ca, toll free 855-476-2500 x 701
Chat Moderator: Brent Charette via zoom chat or by email bcharette@mcec.ca.